There are many emotional adjectives that would be apt to describe Heal the Living. Emotionally charged, moving, tumultuous, draining. Basically this is a film that hits you in the heart.
Based on Maylis de Kerangal's novel Mend the Living, director Katell Quillévéré has adapted the story of a young surfer, Simon (Gabin Verdet), whose tragic circumstances give hope to a slowly dying mother Claire (Anne Dorval) who suffers from a degenerative heart disease.
The film tells a chronological story that manages to feels more like a vignette of the characters whose lives are interconnected by one incident. There are distinct little chapters that fragment the film. With such a slow emotional behemoth of a story this is probably for the best, continually drawing you back into the film with new locations and characters, each written with the depth worthy of dynamic and complex real people.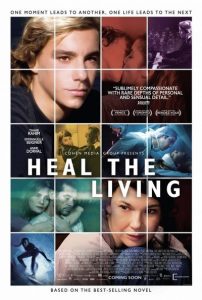 There are a few things that set Heal the Living apart from other foreign medium/low budget work. The cinematography from Tom Harari, for one, is exquisite. And set in perfect harmony to said cinematography is the work of veteran composer Alexandre Desplat. His score emphasises and captures the moods of each scene extremely well, accentuating without overdoing anything. However, it's the more untested Harari I was more impressed with. Several of his shots are radiant and more than worthy of still frames. In particular is the range of beauty in the ocean sequences which interweave and punctuate the film – a metaphor, no doubt, for the sea of emotions.
This is an important story which Katell crafts with great respect to the source material. Thankfully there are no cheap emotional punches or clichés which would be inevitable in a Hollywood interpretation. The film crescendos with a realistic medical sequence that takes up ten or fifteen minutes of screen time. Those minutes are both long and short, indistinguishable from a surgical tutorial but for the context we see them in. Witnessing a human heart removed, veins clipped off, transported in what could be a tupperware container filled with ice, is breath takingly exquisite. The frailty of such a small dull organ, when seen in human hands, illcits waves of reverence for all it symbolises for every party in the film, and now, for the viewer him/herself.
For such an important message the film handles the issue of organ donation with a sensitity and maturity not often granted for hot button issues that are becoming more ubiquitous in today's world of social media. The focus isn't a 'should/shouldn't we' despite the varied reaction of all the characters. This is simply just one story being told without agenda, but not without power. The acting is superb from a talented cast of newcomers and veterans. The standout is definitely Anne Dorval, who emanates grace in a no doubt taxing role. This is a near faultless film that is emotionally taxing, but more than worth the journey.
Heal the Living is in cinemas from 28th September through Sharmill Films.