American Assassin opens with its intentions of an intense ride made clear in the first minutes of the film.  From there it ramps up the tension, with the film leaping between action sequences across multiple time zones, leaving casualties fallen in the wake.
Mitch Rapp (Dylan O'Brien) and his girlfriend are on holiday at an Ibiza resort, cavorting in the ocean. Mitch is applauded by other beach goers when his romantic marriage proposal is accepted.  Within seconds the tranquillity is shattered as a boatload of terrorists hit the beach and shoot everyone in sight.  Mitch barely escapes alive, his new fiancé shot in front of his face.
Eighteen months later and Mitch is a hardened and bitter vigilante, with an agenda to infiltrate terrorist cells and kill anyone he can get his hands on. Before he can do so, the CIA pick him up, looking to enlist him themselves.  With crack training from war veteran Stan Hurley (Michael Keaton), Mitch might be just who the CIA need.  When weapons grade plutonium and nuclear detonators start cropping up on the black market, the CIA are understandably worried.  Given that Hurley's previous protégé, agent turned vigilante, 'Ghost' (Taylor Kitsch), is at the centre, his new guy Mitch might need to save the world.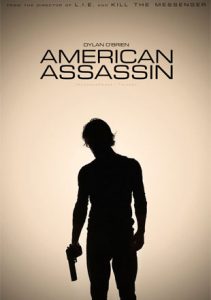 American Assassin is a clear player in the Jason Bourne, Jack Reacher, and Taken market.  Like Bourne and Reacher, Mitch Rapp leaps off the page of a novel series; he is the brainchild of writer Vince Flynn.  He's a bit younger, a lot more hipster and a lot less ex-serviceman than his predecessors, totally lacking the discipline which is usually associated with a character like this.  It's hard to say if this is an effort to catch a new market, but Mitch looks set to be the face of a franchise.
Director Michael Cuesta has a background in TV, directing several episodes of Homeland, amongst others. This shows, as the film seems to suffer from a bit of storytelling fatigue.  The first two thirds of the film are very entertaining and a real romp, wheras the last third sees the plot drop off and the overall effect lose traction.  As the film starts to reach its climax, the plausibility wanes  and the entertainment value starts to decline.  While it is still action packed, the magnitude of the action has taken a step too far.
Inherent in American Assassin is a sense of American patriotism which is fine in the earlier stages of the film, but starts to become myopic and offensive.  Patriotism starts to evolve into jingoism, and it's not pretty.  That said, if the audience are prepared to ignore the underlying issues, the film is still enjoyable.
American Assassin is in cinemas from 14th September through Roadshow Films.