Herman Koch, a Dutch writer and actor, wrote a novel called Het diner in 2009 which turned out to be a runaway success. Becoming a European sensation and eventually a worldwide bestseller with multiple translations, the book concerns two couples sitting down for a five course dinner and discussing certain events that have shaped their recent lives. The English language adaptation of the novel by Oren Moverman doesn't quite come together the way it should, which is curious because, after an Italian and Dutch film, this is no less than the third film to be made of Koch's novel.
Steve Coogan, wrestling and mostly succeeding with an American accent, is Paul, an ex-teacher and writer who is trying to keep his life and sanity together after his son is involved in a terrible accident which still lies unresolved. The dinner in question takes place almost like an intervention; in a very frilly restaurant his wife (Laura Linney) and his brother (Richard Gere) try to make amends with him as tempers and tensions flare.
Something seems to have been lost in translation. The Dinner isn't a bad film but it is a baffling one, as the tone stumbles all over the place and dissonant plot points stack on top of each other. As well as directing, Oren Moverman also wrote the screenplay which, despite being based on the novel, lurches wildly between totally different ideas and plot points. If it wasn't for the knowledge that this was an internationally bestselling novel this would come across like a playwright who packed everything they had into a single script. There's mental illness, political satire, lots of delicious looking food, family arguments and one particularly out of place trip to the battlefield of Gettysburg and an analysis of what those three days meant for the Confederacy.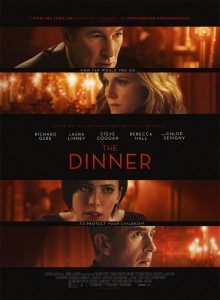 All together the film doesn't amount to much. It's like watching many disconnected parts try to form a whole but not fitting together properly. However, the individual parts are all quite good when taken separately. The performances of the four leads including Rebecca Hall are all excellent. This is unlike any role that Steve Coogan has ever taken on and he fulfils it totally, flipping between cynicism and mental illness with a flavour of acting that hasn't been seen on his filmography before. Opposite this is a stellar performance by Richard Gere, who is now the gold standard in pulling off the silver fox look.
At one early point this was meant to be the directing debut of Cate Blanchett, but when this fell through Moveman took the reigns and the strange conglomeration that the film has turned into was born. Although the photography is spot on and all the food porn looks amazing, this is a strange film which ends up pondering many things but never ringing true with any of them. However, if you've ever been at a family dinner that ended up dissolving into yelling and seething resentment there are scenes that capture that weird feeling perfectly.
Herman Koch reportedly walked out of the premiere because he didn't want the awkward task of meeting the director and cast and then telling them he hated this particularly adaptation of his novel. For a book which has birthed three films and a readership around the globe there must be something special about it, but whatever that thing is is missing in this English adaptation.
The Dinner is in cinemas from 7th September 7th through Icon Film Distribution.