Seeing our own stories on screen is always reassuring. There's a sense that someone is listening, but also that our own people are 'making it' in the storytelling business. Ali's Wedding is not only a solid romantic comedy in its own right; it is a wonderful example of Australian story telling at large, and that of Australian minorities more specifically.
The film starts with the statement that this, unfortunately, is a true story. Excellent, a bit of misfortune is even better.  Ali (Osamah Sami) advises that his life has been marked by the telling of certain lies.  A couple of good ones, then a few whoppers.  The early lies, told by Ali's father (Don Hany), enable Ali's parents move from torture and imminent death in their homeland, to a new life in Australia.  It is in their new home, where Ali has spent most of his life, where he starts to tell his own lies and struggles to keep up with the web he is spinning.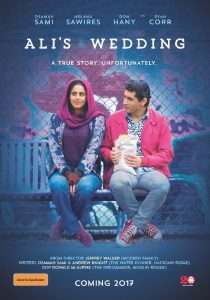 Ali is a likeable and charming kid, who is studying like crazy in the hopes of getting into medicine. This is the goal shared by all the parents for their children in the close knit Muslim-Australian community, and Ali does not want to let his father down.  His father is the local cleric and a pillar of the community.  Ali does not have the smarts to get in to the prestigious university, but lies in an effort to make his father proud and save face with his peers.  He keeps up the charade, even attending classes.  Meanwhile, the beautiful and charismatic Dianne (Helana Sawires) has caught his eye.  She is smarter than all the boys put together, but her father is reluctant to let her attend uni, lest she be subjected to the course Aussies who will comprise her classmates.  Ali comes to the rescue, convincing her dad she should be allowed to attend, and attempting to woo her in the process.  When Ali inadvertently winds up engaged to another woman, more lies are told and he digs himself even deeper.
The screenplay is tight. Osamah Sami co-writes as well as stars, and Andrew Knight lends his screenwriting hand and his experience shows.  Director Jeffrey Walker is clearly one to watch, coming a long way from playing Bronson in Round the Twist.  His experience directing the likes of Jack Irish, Rake and Modern Family has paid off, Ali's Wedding is a real accomplishment for the production team. It's certainly a case of Aussies making it good.
Ali's Wedding is a gorgeous film; it is warm and funny, while remaining tender and keeping any judgement at bay. Visually, the color palette reflects the mood – warm, clear, and undeniably Australian.  And this film is Australian, and celebrates a band of our community who don't normally get much air time.  It's refreshing and reassuring.
Ali's Wedding is in cinemas from 31st August through Madman Films.