The Lost City of Z,  directed by James Gray, is derived from a 2009 non fiction novel by David Grann. The story is centred on Percy Fawcett, an archaeologist and colonel in the Royal Artillery from the 1900s. If this means nothing to you, it doesn't matter, because the film is captivating enough to keep interest levels up for all.
The Lost City of Z is about destiny as much as it is about fate. The narrative follows the three occasions Fawcett (Charlie Hunnam) explores the amazon jungles of Eastern Bolivia, believing there to be a hidden city filled with gold and people. During his last visit with his son (Tom Holland) they both mysteriously disappear and are never found. This is an unsolved mystery that works in the film's favour. There is no closure and that helps to sustain this enigma on screen.
The Lost City of Z has clean storytelling and an appropriate mise-en-scène. Never allowing our eye to notice elaborate or apparent period costuming, it is natural and quite breathtaking (apart from noticing some all too obvious greys hairs in Fawcett's moustache to imply ageing). The acting is also palatable. Hunnam is believable and shows a gradual change in his personality and agility. He is a leader and absent from the domestic home which makes his character dark and interesting.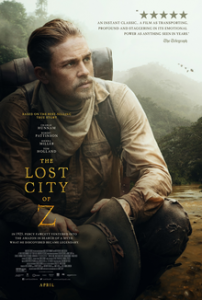 Although you stare at his bush ranger beard and he is hard to understand at times, Robert Pattinson plays the character of Henry Cosin with poise. Sienna Miller plays Nina Fawcett, Percy's wife. Nina is modern in content and absorbs the idea of feminism. It is hard to see Miller at all, and this makes this a stronger and humble presentation.
Without knowledge from the book, or some of the film references such as Lawrence of Arabia or American Cinema of the 70s, this would have been a less grand experience. This is a lost opportunity as this is a major focal point in the narrative, wanting viewers to be in awe of its homages.
As well as looking at these particular eras on screen, the film allows viewers' imaginations to re-work unfamiliar territories. The recent The Revenant, which is darker and smokier, emulates a similar atmosphere. It has decision making, survival techniques and the same ill treatment of "others." The narrative also gives a Cannibal Holocaust vibe, in the way you compare westerners to indigenous people and shudder at the way nature is destroyed.
The Lost City of Z  is long in duration and may be a deal breaker depending on whether you are truly immersed within the film's world. It is dry and haughty, and it is these attributes that may keep viewers invested, but not richly fullfillled. Ultimately, the film screams: "Had you read the book or knew exactly who Percy Fawcett is, then this would have been a different and much more riveting experience!"
The Lost City of Z  is in cinemas from 24th August through Studiocanal.