With a beautiful pace and wonderful subject matter, director Aisling Walsh has created a gorgeous tribute to the life of painter Maud Lewis with her film Maudie. The biographical subject of Maudie, Maud Lewis was an artist from Nova Scotia, who came to be one of Canada's best known folk artists.
Maud (Sally Hawkins) is an arthritic young woman, with her life dictated by her morally and financially destitute brother Charles (Zachary Bennett) and her narrow-minded Aunt Ida (Gabrielle Rose). Maude lives with Ida, Charles paying money for Maude's care. Ida keeps a strict household, condemning Maude when she sneaks out at night to visit a local nightclub. Wanting an escape from this strict and unrewarding life, Maude takes a chance and responds to a help wanted advertisement placed by a local fisherman on the wall of the general store. The obstinate fisherman, Everett Lewis (Ethan Hawke), agrees to take Maude on as a housekeeper for room and board.
As Maude and Everett gradually come to get used to each other, Maude's confidence and character come to the fore. Maude begins to paint, starting by painting a shelf in Everett's tiny home, merely to brighten the place up. She begins to paint flowers on the wall, and moves on to painting pieces of card and wood whenever she has a spare moment. When a wealthy holiday maker from New York sees her work, she buys a few postcards and commissions Maud to create a larger painting. As Maud's paintings become increasingly popular, Maud and Everett's relationship changes in understanding and degree of affection.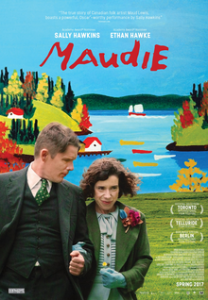 Maudie moves at an understated pace to reflect the film's subject and plot, but also reflecting the painting style of Maud. The lighting is gorgeous, sumptuous but understated; the setting in Nova Scotia is captured in a way that reflects the artistry both of the subject and form of the film. The film is a credit to cinematographer Guy Godfree.
Sally Hawkins is simply remarkable in the role of Maud Lewis. She gives Maud warmth, charisma and gumption. Ethan Hawke is the perfect counter to Hawkins; his Everett is sullen and backward, yet is responsive to Maud's irrepressible presence. Most of the screen time is dedicated to these two, with only limited interaction with other characters. Hawkins and Hawke have such a beautiful and palpable chemistry; it is hard to separate them from the real Maud and Everett Lewis.
Although Maudie is a deeply romantic film, romance is not necessarily the subject nor does it present in the conventional sense. This is a surprising film due to its warmth and tone and the charisma of the two leads which stay with the viewer long after the credits role. This film is not a Hollywood 'paint by numbers' romance; it is a credit to the various artists involved and is personal and touching in an unusual way.
Maudie is in cinemas from 24th August through Transmission Films.