The marathon length National Theatre Live performance of Who's Afraid of Virginia Woolf? may well be one of the most immersive cinema experiences of the year. Those familiar with Edward Albee's classic play will know that it's intimate, unrelenting, and – at times – mentally draining. New audiences, however, should find the production just as rewarding as they meet Martha, George, and their reluctant 2am house guests, Honey and Nick, for the first time.
Albee's demanding script, which sees Honey and Nick given front-row seats to Martha and George's verbal warfare, moves at a frenetic pace. None of this tension is lost on the big screen, with every emotion that extra bit weightier, and every confrontation a little more in-your-face. The intermissions justifiably remain, providing necessary respite for the audience, while aptly slicing up the production's cannon fire with momentary calm.
It's hard to find flaws with director James Macdonald's revival of Virginia Woolf, performed admirably by a talented quartet whose powers of retention are extraordinary. Martha (Imelda Staunton) and George (Conleth Hill) complement one another as the quarreling host and hostess, trading blows from start to finish. Their fights – of which there are many – have a habit of beginning with a flirty chemistry, accelerating quickly into a ruthless boxing match, and erupting into a disaster zone. The script gets them halfway there, but what ultimately keeps the audience enraptured over three gruelling hours are Staunton and Hill's pathos-driven performances.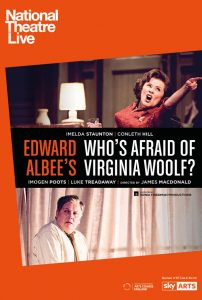 Martha and George take turns to be the aggressor, delivering long-winded soliloquies to both their unsuspecting guests and the audience. It's natural for the latter to find themselves reconsidering their allegiances at each twist and turn, switching sides as each leading player gets the chance to mount their emotionally-charged case.
Honey (Imogen Poots) has the smallest of the four roles in the play, but makes her every line a winner. With all due respect, Luke Treadaway's performance as Nick is the weakest of the four. While Treadaway is convincing (and at times, comical) as an arrogant career-driven biologist, he is less believable when his character momentarily lightens up during the second act. Of the quartet, he is the one that most resembles a caricature, a stark contrast to the vulnerable and down-to-earth players with whom he shares the stage-cum-screen.
Tim Van Someren's task of converting this live performance to a cinematic experience was seemingly effortless, with minimal camera work and almost unnoticeable cuts. What editing has been done only aids the production, with the camera's focus making our relationship with the actors just that extra bit more intimate. We're made to feel more like pieces of Martha and George's furniture, rather than segregated voyeurs. As Martha's unrestrained barking discomforts her guests and husband, we too feel reluctant to say the wrong thing. So too do we feel pain for George when he begs his wife to stop shaming him in front of his guests. This is not a Curb Your Enthusiasm-style farce, but a confrontational domestic battle in which there feels like no escape, even for us.
NT Live: Who's Afraid of Virginia Woolf? is in selected cinemas from 19th August through Sharmill Films.