In 2001 Steven Soderbergh mastered the heist film with his suave and deceptively clever Ocean's Eleven. But it only took him three years to forget the formula, disappointing audiences with the messy Ocean's Twelve. He then regained his touch in 2007 with Oceans Thirteen. Unfortunately his most recent return to the genre is true to his rollercoaster form. Released a decade since he closed the book on his all-star-cast franchise, Logan Lucky sees Soderbergh resurrect his career in big-name large-scale theft.
In place of Messrs Clooney, Pitt, and Damon are a new band of modern day big names: Star Wars' Adam Driver, 007's Daniel Craig, and Soderbergh's pet Channing Tatum. Instead of robbing a casino this crew is out to loot the Nascar Rally after Tatum's Jimmy Logan stumbles across an insecure vault.
The reason for Jimmy, his one-armed brother Clyde (Driver) and his petrol-guzzling sister Mellie (Riley Keogh) to attempt such a risky operation is never quite fleshed out. One suspects it has something to do with Jimmy's desire to stay close to his daughter Sadie (Farrah Mackenzie), who he has lost custody of, but there are also murmurings about reversing a family curse.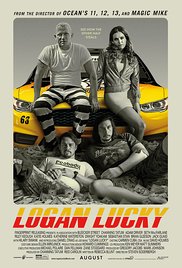 This flimsy half-baked motive is where the problems begin for Logan Lucky; with little riding on the outcome of their heist, the tension is minimal. While it's fun to follow along and pick up Soderbergh's breadcrumbs as he leads us through some ingenious tricks, the film's supposedly climactic scenes are lacking in energy and devoid of suspense. Soderbergh then drags the film out with an unnecessary epilogue, which promises a-ha moments but instead delivers a strange appearance from Hilary Swank and a lazily-written romance subplot. One gets the sense that the film's producers had money to burn, and spent so much time pitching to Hollywood big names that they forgot to fine tune their script.
While it's easy to find flaws with Logan Lucky, the film is nevertheless easy to watch thanks to its strong cast. Moreover, Soderbergh is a stylish director who gets the best out of his actors, and layers the film with a smattering of humour. Much of the laughs come from Craig, who gives us a peek into his post-Bond versatility with an uncharacteristic performance as an egg-eating redneck prisoner. His escape from jail/return to jail scheme makes for some of the film's most watchable scenes. In contrast, few laughs come from Seth MacFarlane's forgettable cameo as Max Chilbain, whose superfluous subplot is almost as lousy as his acting.
If you leave the film feeling like you've missed something, you probably haven't; Logan Lucky simply isn't as clever as you would like it to be. Measured acting and stylistic editing means the film avoids bottoming out to the ridiculous depths of the Now You See Me heist franchise. But whereas Now You See Me tangled its audiences in layers upon layers of nonsensical twists, Logan Lucky will leave audiences underwhelmed by its lack of adventure and a screenplay unworthy of Danny Ocean.
Logan Lucky is in cinemas from 17th August through Roadshow Films