Inspired by the 2012 graphic novel The Coldest City, David Leitch's film, Atomic Blonde, brings ruthless heroine Lorraine Broughton to the screen in startling fashion. The gritty, black-and-white comic panels of the graphic novel are transmuted into something completely different, with neon-lit rooms and long, unobstructed fight scenes dominating much of the picture.
Charlize Theron plays Lorraine Broughton, a ruthless MI6 agent who is tasked with retrieving a list of clandestine Western Bloc agents during the Cold War. C (James Faulkner) has made sure to send his best agent to Berlin for such a crucial matter.
Once Broughton lands in Berlin, she meets up with David Percival (James McAvoy), an MI6 agent stationed in the city. Immediately, we sense something is up with Percival, who drinks and slouches his way through life – even when on assignment. Broughton has suspicions about him; she doesn't buy his act.
The first act of Atomic Blonde is bogged down in exposition, sumptuous visuals and campy humour that sets it off with a shaky start. It seems that Leitch – especially after seeing what is to come – was too cautious and precious with introducing us to this world of 1989 Berlin. There is too much character development that leads nowhere, excessive exposition that barely sheds light on the convoluted narrative, and insufferable attempts at comedy. The clearest example of failed humour is seen in the canned exchanges between Broughton and Percival.
Regardless, the comparisons between Atomic Blonde and other contemporary action films are almost instantly discernible. The parallels with John Wick are certainly most obvious. This should not be surprising to those who have done their homework, because Leitch was an uncredited director on John Wick with Chad Stahelski. The striking stylistic features of John Wick have very clearly shaped the film, as Atomic Blonde is aesthetically appealing, centred on a silent, impassive killing machine, and relentlessly and joyously violent. But where John Wick dispenses completely with narrative, Atomic Blonde falters in trying too hard to make things matter.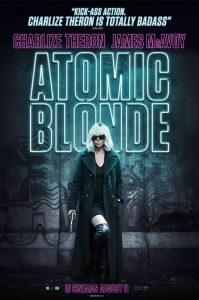 That is where John Wick succeeded.  It made no pretence that it was anything but an excuse to give us a bruised Keanu Reeves shooting and stabbing Russian gangsters.
In Atomic Blonde, however, it always feels the narrative is gnawing at us. That we should care about the emotional arcs of the characters, particularly the relationship between Broughton and Delphine Lasalle (Sofia Boutella), a French intelligence agent. Or that we are somehow invested in the pseudo-historical milieu in which the film takes place. But ultimately everything feels inconsequential, and the viewability of the film is justified only by Broughton's bone-crushing brutality.
The fight scenes power the film. Like in John Wick, the camera sits well away from the action, allowing us to witness in graphic detail every punch, kick, gunshot and stranglehold. The choreography, anew, like John Wick, is jaw-droppingly refined and precise, ensuring that the scenes are symphonic in their timing. Theron, following her badass turn in Mad Max: Fury Road, is a mighty physical force, as her character is responsible for most of the human carnage in Berlin. Wick and Broughton in a film together – fighting each other – would be one hell of a thing to behold.
In so far as the script allows, Theron delivers a hardened, focused performance as Broughton. She trades her usually charming qualities for clinical unfeelingness. The rest of the cast, including McAvoy, suffer even worse treatment from the script, and are accordingly unremarkable.
Other than the fight scenes, Atomic Blonde feels like a gratuitous, unjustified affair. The abuse of 80s pop hits – from Queen, to New Order, to David Bowie – are used to camouflage the substantial deficiencies of anything related to narrative and characterisation. Where music was used to good effect in Baby Driver, it falls flat here. Similarly, the myriad shots of Broughton scantily-clad, drinking vodka, are sleazy. None of this matters when we are caught in the heavenly embrace of Atomic Blonde's extended action sequences. But we should just be hopeful not to get on Broughton's bad side.
Atomic Blonde is in cinemas from 3rd August through Universal Pictures.