Luchino Visconti's 1943 film Ossessione may be one of the lasting classics of Italian neo-realist cinema, but judging by Ivo van Hove's clumsy adaptation for the National Theatre, perhaps the screen is where it should stay. Sparse on dialogue, big on debauchery, Obsession is a psychological drama about the destructive side of passion, though passion would be an exaggerated description of this pale imitation that too often yields to the romantic clichés the story seeks to eschew.
With NT Live returning to London's Barbican Theatre, Jude Law takes a break from being the Young Pope to play a brawny drifter, Gino. Sweeping in off the street in search of a room at an inn, he finds himself drawn to Hanna (Halina Reijn), the abused wife of the proprietor, Joseph (Gijs Scholten van Aschat). It's not exactly love at first sight. This is primal attraction, a smouldering desire for something physical. None of this chitchat nonsense. Each is trapped in a self-destructive cycle and see in the other an opportunity, however unlikely, to escape. If Joseph had his cards again, he probably would played them differently. Discovering Gino to be handy with a toolbox, he invites him to stay, unwittingly orchestrating his own betrayal as Gino and Hanna plan Joseph's death. Hilarity does not ensue.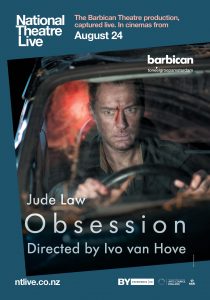 Sadly the 'At least they tried' consolation is the best I can deliver for this ponderous melodrama. Simon Stephens' stage play would prefer that the physical exertion supersede the need for verbal explanations, as that is precisely the kind of relationship that Gino and Hanna are consumed by. Although what dialogue is required is invariably stilted and rarely allows us to establish an understanding of just who these people are. Law and Reijn strive with a determined mix of aggression and bewilderment to generate some sort of electric charge, but their hungry grappling only adds to a mishmash of elements that come across as more comical than tragic. Hanna's motives and character are rarely coherent, not entirely dissimilar to the traditional damsel in distress role. Law's Gino is all hardened gazes, sweaty muscles and empty promises; for all the considerable effort, his dark, troubled soul comes across as somewhat pathetic and seedy. Hardly the ingredients for a lusty rendezvous.
Neither does the stage design do much to inspire interest. Adorned with only a dim light filtered through a door, an industrial washing station, a suspended car engine that spills oil and a formless reception counter, this most drab of settings places the focus on a cast that never truly seems at ease – not when our two leads are seen to strip off and sponge each other down, not in the brief eruptions of music that feel patched, and certainly not on the multiple occasions Law is forced to board a treadmill and run frantically on the spot as Hanna screams from mere metres away. Such events seem oddly stagnant.
With the audience having watched a slightly uncomfortable behind the scenes peek of Ivo van Hove's rather intense rehearsal style prior to the main feature, one can't help but carry into the play the memory of that footage highlighting the actors' uncertainty. Perhaps this is me projecting, but there seemed to be a hint of confusion at just what van Hove was trying to get out of them. Well it's too late now. We can only scratch our heads and wonder what might have been.
NT Live: Obsession is in selected cinemas 29th July through Sharmill Films.