The heady days of the Aussie rock scene circa 1970s must be a favourite subject of Jonathan Sequeira, for his debut film he has done nothing less than direct, edit, write and produce a feature length documentary about a subject he's clearly passionate about – The legendary Australian hard rock band Radio Birdman.
Cited as one of the most influential bands in post-war Australia, having inspired the likes of Midnight Oil and Cold Chisel, Radio Birdman started in 1974 as a group of youngsters looking for a project. Their mission statement – keep compromise out of their art. It was the time of long hair, cigarettes and rock 'n' roll fusing with performance art. Radio Birdman, with it's core of about six players, was and still is Australia's great contribution to the punk scene. After getting thrown out of venue after venue because of their take-no-prisoners style they quickly attracted a dedicated fan base and the stage was set – this was going to be a journey that none of them could have imagined.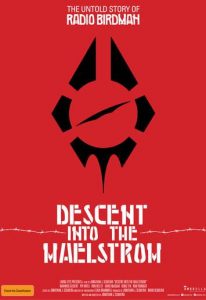 Descent into the Maelstrom, the name taken from a song on the band's first album, is a warts and all account of the band's rise, fall, then rebirth. Sequeira has managed to get every member of the band, including fans and roadies, to add their two cents in interview segments which speak of the reckless abandon that would happen both on the stage and off it. The band members seem like nice chaps, as one fan remarks they're "the sort of guys you could take home to meet your mum" but as soon they got on stage the mayhem would begin. It's an intensely personal story for all involved and they're more than happy to share it even if some of the resentments and bad blood still clearly linger years on.
The filmmaking on display is a perfect blend of art and artist. Sequeira has worked for the ABC for many years, a time in which his editing skills have been honed. Editing is snappy and exciting; there's a real punch to scenes which hints at the crazy experience it must have been to see Radio Birdman live. Animation is used beautifully, creating a visual for some of the crazier stories and giving the whole project a great sense of personality. A lot of rock legends live and thrive on the mythos they generate; here is a band doing its best to live up to theirs and doing a great job of it.
Although it's too long and those who aren't already fans of Radio Birdman won't have much in the way of emotional connection, Sequeira's debut feature is a very enjoyable trip back to the quick rise and renaissance of the Australian Punk scene. Those already initiated with this scene have been gifted with an insightful piece of documentary filmmaking and those who aren't will have a great time being introduced to the hard rocking compadres of Radio Birdman.
Descent into the Maelstrom is in cinemas from 20th July through Umbrella Entertainment.