"Lovers have come and gone, but i've always loved dogs" – Gillian Leahy
Dog lovers can be prepared for the must see, tear-jerker documentary, Baxter and Me, directed and written by Gillian Leahy (My Life Without Steve). While the film helps to understand the strong bond between humans and dogs, this emotional portrayal focuses specifically on the exploration of the relationship between Gillian and her big chocolate brown Labrador named Baxter.
Dogs have been associated with humans for up to 30,000 years. There are camera shots in the film which display dogs as packs and address questions towards the audience such as are dogs companions to humans or slaves? If so, who are they protecting? Themselves, their owners or both? 
Camera shots of the outside and inside of Gill's home help to conjure up an image of what makes a home seem homely. Long shots of furniture, plants, and the image of Gill sleeping peacefully with her dog in bed, all help to capture the essence of the heart of the film.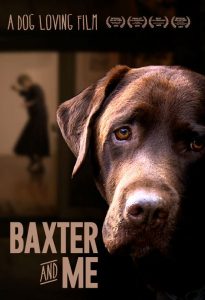 Themes of nature and the multiple levels of support a dog can project onto a human, including benefits to health, endless love and companionship, are portrayed in the film. These are enhanced by Elizabeth Drake's music, Steven Macdonald's cinematography, Denise Haslem's editing and Gill's own eccentric, and opinionated voice over. The film takes us to some familiar haunts and also to some unexpected places in a journey to rediscover the bond between dogs and their owners.
Gill's mix of living through historical periods also provides her film with rawness as it flash backs to how dogs have helped her through the worst of times. This includes Gill's depression and declining health, and the challenging, but brighter side of life, such as living through woman's liberation and the struggle between freedom and control.
Baxter and Me is not only a film for dog lovers, but a film for all, as it explores why owning a dog will bring much joy in your life.
Find session times for Baxter and Me here. Alternatively, you can host your own screening and sell tickets via your social media channels.