Films about ghosts are usually scary, jumpy and spine-tingling. David Lowery's latest feature, A Ghost Story, carefully avoids boxing itself within the horror genre by proving itself an elusive poem on topics as various as life and death, time and perception, and the purpose of human and universal existence. Without doubt, it is one of the most unique and transcendent films of recent memory.
C (Casey Affleck) and M (Rooney Mara) are a typical young couple: they argue about their future, cuddle for hours in bed, and share a deep love of music. Before long, C dies in a car crash out the front of their quaint Texan abode. M is thrown into a state of grief – she stares for minutes at C's lifeless body in the morgue, and devours a whole pie alone in her darkened kitchen. We observe M's grieving process from afar in long takes, conveying a sense of temporal authenticity in the way we face loss.
Little does M know that C still lives, albeit as a ghost. C is dressed in a sheet, and summoned back to their home, where he remains for eternity. At first, the white sheet is distractingly absurd, something conjured from a child's imagination. Lowery's direction, though, refuses to stray from serious pondering of the subject matter, soon weaving the costume into the tonal fabric of the film.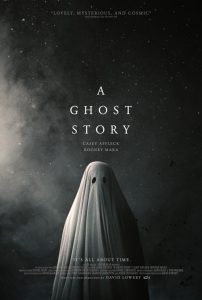 The biggest star of A Ghost Story is not Oscar winner Casey Affleck or the talented Rooney Mara, but Lowery's all-encompassing direction. In every moment, we are conscious of Lowery's minute control: the meditative pacing, the gloomy lighting, the fixed, rigid staging. A Ghost Story is Lowery's brainchild, which he conceived after he and his wife "had an argument about whether we were going to stay in Los Angeles or move back to Texas." And to some extent, the film feels so personal to Lowery that its true purpose and meaning is inaccessible to the rest of us.
Nevertheless, A Ghost Story is an unrelentingly rich cinematic mosaic that encourages inward and cosmic reflection. Once M shifts from the house, a young family moves in, then an intellectually pretentious, know-it-all millennial who hosts parties to broadcast his philosophical views. There are time loops and jumps to the distant past and the foreseeable future which, if nothing else, force us to question the permanency of our existence. With this question comes another: do our lives have any intrinsic meaning? A Ghost Story is bound to leave some steeped in nihilism, and others with a renewed desire to make the most of life.
All of this is communicated without the use of language. C doesn't speak (bar a few non-verbal, subtitled interactions with another ghost), and the humans in the film often wander alone. It is a real testament to Lowery's directorial skill that he is able to explore such breadth of ideas and concepts via image. And I shouldn't neglect Daniel Hart's score, which contributes so much to the ethereal varnish of the film.
A Ghost Story is a haunting cinematic experience, just not in the bloody, confrontational way with which we are wearily familiar. Lowery has taught us how modern cinema should be made.
A Ghost Story is in cinemas from 13th July through Madman Films.