Meta is a very particular brand of humour, but rarely is it done with the level of wit as distinguishes Tom Stoppard's Rosencrantz and Guildenstern Are Dead. The man himself is nearing his 80s now, but the energy and angst of a man fifty years younger are in abundance in this existential comedy that is still every bit as fresh as it was in 1967.
Set in the wings of William Shakespeare's Hamlet, it's the tragic tale of two childhood friends of Hamlet, minor characters in the play, whose lack of memory or foresight forces them to question their existence. Any attempt to tackle the Bard is a bold one, but Stoppard has probably created the most durable and well-known theatrical spin-off, largely because its tone is so strikingly at odds with its source. Archaic in theme, modern in conception – this is evident from the opening scene as Rosencrantz (Daniel Radcliffe) and Guildenstern (Joshua McGuire) bet on a coin toss that only ever turns up heads. Running the length of almost three hours, the double-act is tantamount to a labyrinth of reasoned dead ends, its journey confounding and fated.
Ribbing the grand traditions of theatre in the process – a highlight among many is a down-on-their-luck theatre troupe's offer of a performance, the only options being 'love, blood and rhetoric' – the star of the show is Stoppard's quick-fire Socratic dialogue between this muddle of bit players. Philosophy and reason are sought and dealt out and forgotten as circumstance necessitates, their only hints as to the larger Hamlet narrative being the brief snippets overheard during their on-stage cameos. The effect is a sympathy punctuated with collective sighs of exasperation.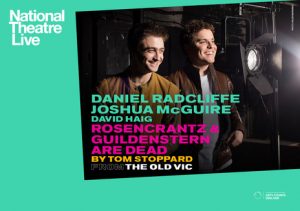 While the play is a winner, star power clearly helps, and the National Theatre has become something of a major studio, regularly drawing Hollywood A-listers to its productions in some of London's most interesting theatres. This time it is the Old Vic, an intimate and well-loved venue of London, and Harry Potter alumnus Daniel Radcliffe is at the top of the bill.
The latter might even cause some hesitation but this is not a gimmick. Radcliffe has developed a knack for oddball roles and here he reveals a natural comic timing as the quieter and clueless Rosencrantz. He and Joshua McGuire are energetic and well suited, with McGuire infusing Guildenstern with a feverish hunger for explanations as to what it's all about.  These two take most of the stage time understandably, but David Haig as 'The Player' makes the most of his brief moments, imposing a lecherous bent on proceedings. All feed off each other with appealing naivety, and while it's handy to be familiar with Hamlet before going in, it probably doesn't matter if you happen to share the lack of context with those onstage.
It's a remarkable show of stamina from all involved to trade in word games for almost three hours and seemingly not draw breath for long portions. Performing before only a ladder and a lightbulb and encompassed by a succession of neutral cloudy panels, the lack of adornment does leave the cast somewhat exposed. However, director David Leveaux uses the space well and the cavernous backdrop fittingly evokes a not-quite-formed peripheral world through which the main players only ever visit in passing. This is especially the case for their supposed friend, Hamlet himself – here played with devil-may-care self-absorption by Australian Luke Mullins (who, fun fact, actually played three games for Collingwood back in 2004).
At times R&G may threaten to become tedious in its strident intellectualism and commentary on mortality, but the energy of the cast and an infectious humour always serve to draw the audience back into the collective joke. For those who are familiar with Hamlet, it almost amounts at times to an adult version of pantomime children's theatre, but instead of screams of 'Behind you!' there are laughs of resignation as Hamlet's final act serves up its messy stew of love, blood and rhetoric. Indeed the realities of this ending are less than rosy, but it is a testament to the cast that they could infuse this play with the life it deserves, and deservedly the most enthusiastic praise will continue to be reserved for the playwright himself.
NT Live: Rosencrantz and Guilderstern Are Dead screens in selected cinemas from 24th June through Sharmill Films.