Rough Night might feel pretty familiar, and in many ways it is, sticking to the formula of the 'bachelor party gone wrong' theme.  But it has a few fresh angles, not just the obvious. Jess (Scarlett Johansson) is about to get married, and her girlfriends are treating her to a wild weekend in Miami before the big day.  Alice (Jillian Bell), Frankie (Ilana Glazer) and Blair (Zoë Kravitz) are Jess's crew, her long time college friends, they have been mates since beer-pong and frat-parties dominated their lives in the dorm. Pippa (Kate McKinnon) is the new addition to the group – Jess's Australian buddy from her Gap year exchange.  It been quite a hiatus since they were all together, and once they are all in Miami the ladies let their hair down. Copious amounts cocaine, booze and dancing, and the logical next step is to hire a stripper.  When the stripper is accidentally killed by an over-zealous Alice, the ladies are forced to sober up and figure out what to do.  Of course, they need to hide the body, and, of course, this is a plan fraught with complication.
Jess is suitably straight, a senator in waiting, to her cohorts' collective foibles. Alice is living in the past, unable to accept they have all moved on and (mostly) grown up.  Frankie is an activist, albeit a rather privileged one, Blair is her former lover, now a uber-wealthy divorcee and single mum.  Pippa is Australian, apparently this is a character trait rather than merely a nationality. The ensemble cast is excellent, drawing on a collective of talented women, despite some questionable and clichéd characters.  Lucia Aniello directs and co-writes with Paul W. Downs, although there are a few flat jokes, it is generally a funny film.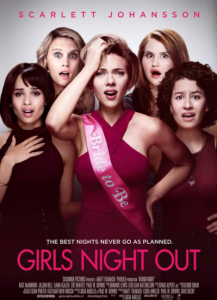 There is a particular grievance for the Australian audience; the imperfect Aussie accent which borders on insulting. Kate McKinnon is undoubtedly a funny woman, and she certainly gives Pippa plenty of charisma.  But was is really that difficult to find an actual Aussie comedian to play the part?  Rebel Wilson springs immediately to mind, particularly after How to be Single, but also Rose Byrne in her various roles of comedic note.  If not an Aussie, then a Brit; Fleabag writer and star Phoebe Waller-Bridge is a master of dark comedy. The world is getting smaller, is it really harder to look a little further afield for good talent than to settle for a poor simulation from a local?
Although this film is ultimately a bit disappointing, I am loath to be overly critical. We have had plenty of time to perfect the cinematic 'boys behaving badly' scenario – The Hangover being only the more recent of these franchises, with various Police Academy's and Porky's preceding.  Before that there was the 'Playboy' inspired Bachelor Pad and Seven Year Itch. Rough Night is derivative in a lot of ways (add a tiger, and it is almost The Hangover meets Weekend at Bernie's).  But within that it is also fresh and ground-breaking, and a little bit unprecedented.  It goes to some very dark places, but uses all avenues for comedic and dramatic fodder.  Bridesmaids, Bachelorette and now Rough Night are all early players in what will hopefully become a perfected craft;  female centric, multi-protagonist comedies, with good female talent both in front of and behind the camera.
Rough Night is in Australian cinemas from Thursday 15 June through Sony Pictures.