It's a simple set up. Two backpackers, Lina and Steph from Finland, find a job through an agency as the barmaids at the hotel in Coolgardie, a tiny town in WA about six hours from Perth. Documentary maker Pete Gleeson took a very basic idea and has turned it into one of the most unsettling fly-on-the-wall experiences imaginable, as these two Scandinavian drifters are thrown into the abyss of country-town Australia with all the isolation, heat and toxic-masculinity that comes with it.
The bizarrely named "Denver City Hotel" in the main street of Coolgardie is the setting for this heartbreaking tale. Young women from overseas who are looking to make a bit of money are locked into three month contracts; they live and work in the Coolgardie pub and hopefully come out the end with refreshed bank accounts.
Before they even get off the train the shocking things that will befall Lina and Steph are laid out. The morning they arrive they're excitedly called "fresh meat" by one of the locals, who has seen the sign that the owner of the pub has written out front which proudly declares "New girls tonite [sic]". What follows is a lot like a real life horror film with some of the most pitch black comedy imaginable, as the deplorable savages masquerading as men slobber and mewl over the new women in their lives.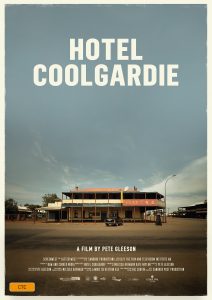 In the film community the comparison has been made many times already that Hotel Coolgardie is the non-fiction version of Wake in Fright. Yet if Wake in Fright is a horror film where the villain is beer, Hotel Coolgardie is like a horror film where the villains are men – if that sounds misandrist then simply watch the film with the knowledge that everyone knew they were on camera.
The dark heart of country Australia is on full display in scenes which will send chills up the spine. Coolgardie is one of the most isolated towns in Australia; the population is less than 1000 and nowadays it's little more than a pitstop on the way to the mines. With the red dirt, heat and flies it seems a lot like hell where they serve beer. Some of the most appalling things are said to Lena and Steph from patrons who see them as little more than sentient slabs of meat.
Writing as a critic, Hotel Coolgardie is one of the most darkly memorable experiences from 2017 that crawled under my skin like no film has for a very long time. Such a simple set up has been used to create a jaw-dropping documentary which lingered for many days after having seen it. Writing as a man, no film has ever caused such a stark inward gaze afterwards, as I had to sit down and take a long, hard look at myself and the fortune I was given by being born a man. Put another way, it made me 'Check my Privilege' and come close to despairing at the way that many of my male brethren still regard and treat the women around them.
For anyone looking for a terribly open and frank look at the heart of small town Australia, look no further. Hotel Coolgardie is one of the most important and shocking films, documentary or otherwise, to come out of Australia in ages.
Hotel Coolgardie is screening exclusively at Cinema Nova from 15th June through Raw and Cooked Media.