Even though they are still just cats doing cat things, it is nice to see beyond internet LOLs in catdom and learn about their importance to the streets of Istanbul. Already having made an impression at the Melbourne Film Festival in 2016 and some extra sold-out screenings, Kedi (Ceyda Torun) is getting a local release.
This is Torun's first piece, which is linked to the memories of her childhood. Much to her mother's and sister's disapproval, despite coming home with cat bites and the thought she could possibly get fleas, sure enough Torun went ahead and spent time with these cats. Kedi introduces viewers to seven main felines and really articulates each individual personality. Each cat has a local that he/she comes to visit (mainly for food) and occasionally stays with. The locals introduce the cats in Kedi like proud parents and really know their personalities and background stories. By the end of the doco, it is obvious who is who.
Adding to this are the visuals which accentuate its personal experience. Intimate close ups of the felines and the city itself helps the audience get to know these cats, and gives a taste of their texture and movement throughout the streets. It is really quite sublime.
Different to watching YouTube cat videos, and yet somehow the same, Kedi is an enjoyable exploration and still offers that bit more. What plays out here is the mythic history of the cat found in the ancient city of Istanbul; we even learn that they sailed with the Vikings.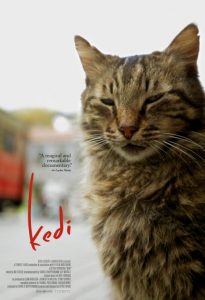 The film also looks at how new housing developments will impact these kitties. Kedi may not be the best documentary as there is no real rebuttal, but then again, what could be negative about a cat, right? But you do get the feeling had this doco gone that bit darker/more nuanced then the fluffy cat-lovers segments would have had to reach another level. Perhaps because it's cats, we can possibly feel okay about this.
Kedi has a lot to say about life and our relationships. Exploring the bond between human and cat, this is where it is enriching. The owners seem to put cats on a pedestal, much like the Egyptians, but you really see why this is the case. It is about solace. For the humans, most enthusiasts discuss how a cat has helped aid their depression/breakdowns more strongly than any other drug, and for the cat, they stay alive and get a scratch on the back.
You quickly realise Kedi debunks the 'crazy cat lady' idea, and that is great. In Istanbul it is pretty common to see men look after five or so meowing kitties and not think this is weird or should perhaps involve a spinster. Kedi  proves on many occasions that men also adore cats and equally are as nurturing as women, and usually it's the rough-as-guts types.
Torun doesn't treat these cats as cute, grumpy, click bait, but articulates their importance as historical, strong figures. In hindsight it would be a shame for Kedi to only be seen by cat lovers when it has so much character and breathtaking moments to explore and consider.
Kedi is in cinemas from 15th June through Hi Gloss Entertainment.