Starring Tom Cruise and directed by Alex Kurtzman (director of Star Trek and The Amazing Spider-Man 2), The Mummy is part of the "Dark Universe" sequence of films that are hitting screens over the next couple of years.
The original The Mummy was released in 1999, and Kurtzman's new take on this film adaptation is action-packed and features incredible explosions and stunts. If you are the type of person who enjoys watching thrillers, this is a must-see. Elements of study in the film based on a new world of gods and monsters include reiterating the history of Egyptians, their myths and rituals, exploring caves, and reading inscriptions. But the film isn't for the faint-hearted who don't enjoy looking at insects, rats and images of the undead.
The film goes back in time thousands of years to when crusader knights invaded Egpyt and were buried. Egyptian princess, Ahmanet (played by the talented Sofia Boutella), is mummified and buried in the desert, where no one knows the location of her tomb. She is safely hidden for 5,000 years. Ahmanet's multiple killings were the cause of her mummification, having killed her father, his wife, and their baby because she wanted more from life, namely to be next in the line to the throne.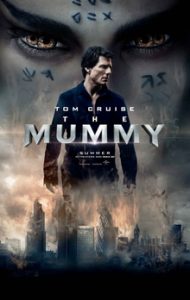 Kurtzman has taken the "Kiss of Death" myth to the next level. The mummy sucks life away by kissing people and turning them into the undead, making everyone endure her sins. The quote 'The past can't be buried forever' plays a crucial role in deciphering the film. Tom Cruise's character, Nick Morton, is 'condemned to external darkness' after shooting open the tomb where the mummy had remained. 
Jake Johnson plays Nick's best mate, Chris Vale, with their chummy companionship taking a turn once they encounter the tomb of the mummy. In another supporting role, Annabella Wallis captures Jenny Halsey's passion for archaeology brilliantly. However, despite good performances, the film jumps from action to storyline and the introduction of further characters, leaving minimal time for what was happening to sink in for the audience.
A cross-over with Robert Louis Stevenson's novel, Dr Jekyll and Mr Hyde (originally published in 1886), there are common links in this gothic and thriller like production. The film distributes a message to the audience that 'there are monsters within all of us; others choose to let them free while the rest keep them quiet.'
The Mummy is in cinemas from 8th June through Universal Pictures.