Based on the 1951 novel by British author Daphne du Maurier, Roger Michell adapts and directs My Cousin Rachel. This story is both a romance and a mystery that is plagued with ambiguity from the very beginnings of the film to the very end. At the start of the movie the audience is asked "did she, didn't she?" and these are the questions you will ask yourselves as you are walking out of the movie.
Set in Cornwall, a young and feisty Philip (Sam Claflin) has come home to his cousin's estate only to find that his cousin Ambrose (also played by Claflin) has taken ill, and has been sent to Italy to soak up some of those all-powerful healing sun rays that you just do not get in England in order to get better. While away, Ambrose is nursed back to health by the beautiful and mysterious Rachel (Rachel Weisz). Ambrose writes home to keep everybody updated but his letters go from upbeat to disturbing as the woman he has married has gone from saviour to tormentor. He sends a desperate plea to Philip to come help him. Philip gets there late, but vows that he will exact revenge on Rachel who he believes only married Ambrose for his wealth and estate. He intends to confront Rachel, however when they first meet she immediately disarms him with her beauty and easy going and humble nature. He also appears to disarm her a little as his likeness to her recently deceased husband is striking.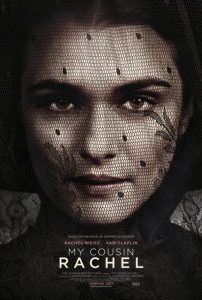 The film starts strong and the tension and chemistry between Claflin and Weisz is the perfect balance of forbidden love, misguided youth and unrequited romance. It wanes a little in the middle as everything seems to be heading towards a foregone conclusion, but then picks up the pace as suspicions arise, and doubt and paranoia thrust the tale forward again to a strong ending.
While the story really revolves around Philip and his journey into manhood, it's hard to know if we are seeing Rachel purely through his masculine vale. Rachel has spurned his advances and wants to be independent and free, which is something he has helped facilitate, yet in doing so now everything she does seems nefarious. On the other hand she could be seen as a manipulator, using her beauty and intelligence to gain wealth and freedom at the cost of others. It's a question that is tossed and turned and will have even the most astute and cynical minds second guessing. The film closes on a perfect note with the words 'Rachel, my torment' etched into your mind. The torment is a shared one; prepare to leave bamboozled and beguiled by Weisz's fantastic performance.
My Cousin Rachel is in cinemas from 8th June through 20th Century Fox.