Perhaps it is a reflection of these memoir-happy times that something like Churchill comes to our screens now – a true story that can at least attempt to explain or provide a blueprint for a path through a reality we're utterly confused by. As one of modern history's most memorable and influential leading figures, Winston Churchill guided Britain through some of its toughest hours, ensuring there is no shortage of deeds for which his life and legacy could be scoured for scraps of inspiration. So it is ambitious of director Daniel Teplitzky and screenwriter Alex von Tunzelmann to restrict their portrait of the man to a handful of days prior to the Allies launching Project Overlord, the day now marked as D-Day.
Brian Cox plays Churchill with the usual bluster and bulldog chops you'd expect of any Churchill depiction. God knows there have been a few. Cox's ranks with the best of them, simply because he gets feature-length time to flesh him out (for want of a better phrase – I hear he put quite a lot of weight on to play the part). Here he is in a more vulnerable state than most might picture him. As Dwight Eisenhower (John Slattery) proposes the Allies' definitive plan to start the beginning of the end of the war with the do-or-die Overlord operation, Churchill is caught in a spin, simultaneously haunted by memories of the mistakes of the First World War and caught off-guard by the nannying of his advisers. It seems his authority has been questioned and he is to be reduced to symbolic rather than strategic input.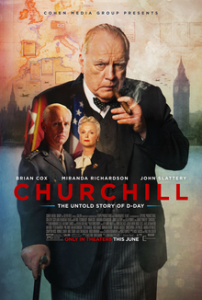 Everything about this film is at least somewhat familiar, and while it doesn't do a lot wrong, by the same token it doesn't take a lot of risks. On a low budget it has managed to draw together quite a remarkable core cast, which in particular includes Miranda Richardson as wife Clementine. It is a careful wartime chamber drama that doesn't ever threaten reaching the front. This seems to be a reflection of Churchill's regrets in his later life that proximity to the fighting was conspicuously absent, but it does rob this film of some harsh context.
As it was in life, it seems that Churchill's presence is destined to be one-man show. Sadly this film buys into that mentality a little too much, as key members of his entourage, including his wife Clementine, spend a majority of the film in orbit around the cigar-chugging PM. It certainly doesn't flatter Churchill for the entirety, and depicts a man perhaps blinded by his own worries and unwillingness to listen to anyone's judgement but his own. This is addressed in a particularly poignant scene towards the end as Clementine finally gets some due consideration, but it is sadly only a glimpse of a what might have been a better avenue of interrogation.
This type of focus is not unfamiliar for biopics. Reverence for the subject is even expected, but not blindly so, and the culmination of soundtrack, radio speech and introspective beach walks does give the impression of being steered rather than the natural course of events taking hold. However, there are many redeeming elements. The overarching championing of the home front in the war effort is a heartening sentiment, and the short scope of time is one thing, however, that does work. Instead of overreaching, time to soak in the detail of Churchill's day-to-day wit and perpetual stubbornness is appreciated. It's just a shame we we haven't got more to show for it.
Churchill is in cinemas from 8th June through Transmission Films.