Romanian director Cristian Mungiu has only made five feature films, but in that time he's won nearly every major award at Cannes, conquered his national film awards 'the Gopos', been a prominent figure in the Romanian New Wave, and even been knighted by the Romanian royal family. His latest film, after 2012's stark drama Beyond the Hills, is a masterful morality piece made in that sparse and sober way that Eastern Europe does so well.
Romeo (Adrian Titieni) is a man living in a loveless marriage in a small town in Transylvania. His daughter Eliza (Maria-Victoria Dragus) is just about to go through exams and a scholarship to England seems to auger very well for her future. She is everything Romeo has worked towards in middle age, a chance to fix what he sees as the mistakes that he made along the journey of his disappointing life.
When a terrible thing happens to Eliza, Romeo has to make a series of very serious and very difficult decisions. Should he cheat a system which has never given him a single benefit and try to salvage what is left of his daughter's fading future, or do the morally right thing and in the process lose each one of his hard fought gains?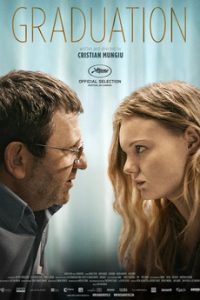 Cristian Mungiu is a master of the austere, minimalist direction that is so prevalent in European cinema, particularly in the East. It's a part of the world with one of the darkest histories imaginable; and it shows. Graduation depicts a land of graffiti, concrete and inhumanity, where moral issues are like an ever descending spiral and easy answers are hard to find. For a film that takes place in Transylvania it shows a different kind of infernal blood sucking monster to the one we're used to seeing from here – corrupt bureaucracy.
The brilliance of this film lies in the issue at the heart of it. We all find cheaters and nepotism to be abhorrent but Mungiu manages to add a human face to the age old story of corruption. Romeo's dilemma is the kind of situation no one deserves to be in yet this doesn't stop the audience from both judging and then sympathising with him, often within the same scene.
Mungiu's cast make the best out of his excellent script. Adrian Titieni's subtle but heartrending performance is the base from which all the film's strengths are built on. His ongoing affair with a high school teacher (played very well by Malina Manoviciis) is an open secret of which his wife is aware and isn't surprised about. It's a sobering factor in the life of a man whose entire life up to this point has been disappointing. Maria-Victoria Dragus, who is notable for her work in Michael Haneke's The White Ribbon, is both vulnerable but periodically wise.
An Eastern European morality tale is cinema at its philosophical best. It's a film of deep questions and personal reflection, actual substance which is one of the best things that cinema can give us. Cristian Mungiu could never be accused of being a cheerful filmmaker but he's carved a very niche and very rewarding place for himself in the history books. No one can make realistic and uber-stoic cinema quite like him.
Graduation screens exclusively at Cinema Nova from 8th June through Madman Films.