Beach. Babes. Bronzer. We all know the Baywatch drill. Arriving on the big screen this week, Pamela Anderson and David Hasselhoff step aside for the new kids on the beach, led by none other than Dwayne 'The Rock' Johnson. Solving crimes, saving lives, and looking smoking hot while doing it, Baywatch is an utterly ridiculous romp that's good mindless fun.
Dwayne Johnson is head lifeguard, Mitch Buchanan (Hasselhoff's original role because for some unknown reason 2017 sees the exact same characters but with different faces return). When it's time to test the new recruits he butts heads with arrogant ex-Olympian swimmer, Matt Brody (Zac Efron) while Summer Quinn (Alexandra Daddario) and the awkward Ronnie Greenbaum (Jon Bass) compete for extra spots on the team. Stephanie Holden (Ilfenesh Hadera) and CJ Parker (Kelly Rohrbach) watch over proceedings as the resident hotties. Once the final team is assembled, it's time for the team to go beyond their roles as lifeguards and solve a crime, because hey, that's what the Baywatch team do even though it makes no sense.
The film is well aware that the premise of Baywatch is ridiculous, and the film is a solid two hour piss-take. Similar in style to the Jump Street film franchise, viewers may lose count of the number of self-referential jokes taking a swipe at unrealistic storylines. Zac Efron continues to ask the others if perhaps the police should be the ones to deal with criminal activity, as opposed to the lifeguard squad; Dwayne Johnson is too busy channelling Maui from Moana with all his ocean references to really think this through. Director Seth Gordon (Horrible Bosses) and screenwriters Damien Shannon and Mark Swift (Freddy vs. Jason) do a decent job providing some enjoyable one-liners, although amping up the ludicrous premise to eleven (as opposed to about an eight, where it ends up sitting) may have resulted in an even better film.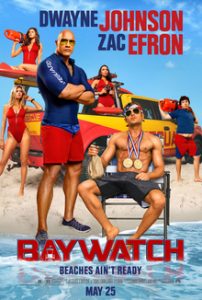 Of course part of Baywatch's appeal is the beauty and brawn, and it will come as no surprise to anyone that the majority of the main cast (Jon Bass excepted) are ripped within an inch of their lives. It's almost enough to make you feel quite shit about your own mediocre body, but they're so ridiculously unattainable that it's okay. (Unfortunately, teenagers may not quite get this point). But while they look hot, that's certainly not all they're there for, and there are plenty of stunts to keep action fans entertained. Let's just say I'll be expecting a lot more from lifeguards from now on.
There's one thing about this film that stands out as a clear highlight. I haven't always been a fan of The Rock. In fact, when he was declared the highest earning actor of 2016 I wept for the future of cinema. But there's no denying that the guy can do comedy. He aced the voice acting (and even singing) in Moana, and now he reigns as the true highlight of Baywatch. It's a mean feat given my love for Zac Efron following his Hairspray and High School Musical days, but Efron is nothing here without his bro. I may be cast into the fiery cauldron of film critique hell for this, but so be it. I LIKE THE ROCK.
Rotten Tomatoes will tell you that Baywatch has an abysmal critics rating of 19% but as we all know, critics' ratings of successful mainstream films are rarely good. It may be mindless, highly sexualised fodder for the masses, but sometimes that's all we're after. I'm going to buck this trend and give it 3.5 stars. See you in hell.
Baywatch is in cinemas from 1st June through Paramount Pictures.