Just in time for Mother's Day comes the mother-daughter kidnapping caper, Snatched. Following on from Trainwreck comes Amy Schumer's second starring feature, although this time she's taking a break from writing duties. Katie Dippold (The Heat, Ghostbusters) pens the screenplay, with director Jonathan Levine (50/50, Warm Bodies, The Night Before) at the helm.
Emily (Schumer) gets dumped by her boyfriend (Randall Park, in unfortunately just the one scene) and stuck with a non-refundable romantic holiday for two to Ecuador. With limited options of other travel buddies, Emily asks her mother. Linda (Goldie Hawn) is initially apprehensive – after all, do anyone's parents approve of trips to South America? – but is quickly convinced to join her desperate daughter. On their first night in Ecuador, Emily meets and is wooed by Englishman, James (Tom Bateman), who offers to take her and Linda out on an excursion the following day. Before they know it, they wake up in a cell, awaiting their fate. Naturally, hilarity ensues.
On the back of the recent traveller-held-hostage-overseas drama Berlin Syndrome, Snatched will probably be the least intense kidnapping film you are likely to see. Constantly punctuated by humour, there is never any question as to how it will all end up, and the mother-daughter duo are never in trouble for long. In that respect it provides respite from the many horrors of the typical hostage flick, and aims simply to entertain.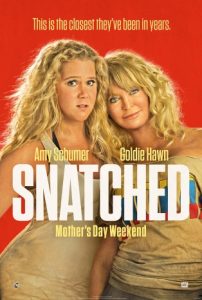 Schumer is right at home with material well-suited to her style of comedy. And is the title meant to have a double meaning? Probably. Never shying away from a bit of gross-out humour, she is right up there as one of the women most fun to watch. The same, unfortunately, cannot be said of Goldie Hawn. Making her first film appearance in fifteen years, she doesn't really set viewers' hearts on fire. She makes for a nice mum role, and she's funny enough, but is rarely the one of the pair creating the laughs.
Backing up the blondes are an enjoyable bunch of supporting players. Wanda Sykes and a mute Joan Cusack feature as a bad-ass couple keen to help out the sisterhood. Christopher Meloni is hilarious as an Indiana Jones type who guides Emily and Linda through the Amazon before revealing his background. Ike Barinholtz as Emily's agoraphobic brother, Jeffrey, is one of the highlights as an irritating, juvenile nerd who wages war with an American government official over his family's safety. Together the cast provide plenty of laughs culminating in an enjoyable trip to the cinema, even if few of the jokes are gut-bustingly hilarious.
It comes as no surprise that the film does fuel the stereotype of South American countries being dangerous, despite their vast improvements in safety for travellers. Soon after being kidnapped the pair end up in Colombia (read: filmed in Hawaii) because where else would freak out a mother so badly? While it may be a fun movie to see with your own mum, it may not help her level of anxiety if you are a keen traveller. The entire premise is clearly ridiculous but the film might have been helped by a surprise twist that went against the stereotype. I did almost wonder initially if the whole thing was going to end up being a staged prank by Linda to teach Emily a lesson, but twists are in short supply here.
Unlike Schumer's Trainwreck, Snatched doesn't do many things differently, but it does provide a fun night out. Go in without high expectations and have a few laughs. Then tell your mum you're going on a solo trip to South America and have a few more.
Trainwreck is in cinemas from 11th May through 20th Century Fox.