Name a great director and you're pretty much guaranteed that they've made a horror movie. Either the genre offered them their start, or it gave them their masterpiece. You could write a whole thesis on this, but here are some basic theories. Horror is such a great genre because its films are often low-budget and so offer a lower barrier of entry into the world of movie making. This lower risk also means they're more open for experimentation. Meanwhile, the fluidity of the genre allows all sorts of different stories and styles – like gore, satire, exploitation, allegory, self-examination, psychological or supernatural. Horror lets directors tell stories that they might not otherwise. It lets them wrap their personal fears, our subconscious or literal fears and angers, into packages that can surreptitiously deliver a wider message.
So what does it say about our world now that it feels like, in the last few years, there's been an explosion in the quality and relevance of films from the horror genre? Don't Breathe, The Witch, It Follows, Under the Shadow, and increasingly female directed films like A Girl Walks Home Alone At Night, Honeymoon, Prevenge, Raw, The Babadook and The Invitation. In a world where women have had to rearm in the fight for their rights, a film like Raw acts as a feminist parable, playing with traditional images of womanhood and femininity.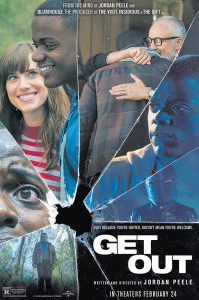 The point of this is that horror films are important in asking who we are right now, what's scaring us – and not in a jump scare kind of way. Based on his debut film Get Out, for Jordan Peele, and the black community in America, white people are very scary. It's not just the obvious groups whose racism has grown in prominence and openness since the movie began production – Trump, the Nazis and the fascists that support him, or the police. It's the people 'protecting' their suburbs, the businessmen profiting off the exploitation of black bodies and appropriation of culture for financial gain. It's the rich liberals who smugly thought Obama's election meant they were living in a post-racial America, where their support meant racism was solved. It's those that boast they don't see colour, and so overlook the actual everyday horror of the African-American experience.
In Get Out, Chris (Daniel Kaluuya) is taking a trip upstate with his new (white) girlfriend (Allison Williams) to visit her wealthy parents (Catherine Keener and Bradley Whitford). His discomfort at the prospect of being surrounded by white people is clear by his question of "You have told them I'm black, right?". She brushes him off by saying don't worry, Dad would have voted for Obama a third time if he could. The meeting with the parents, who have black help around the estate, starts off awkwardly but gets an increasingly sinister vibe. It's strange, but innocent enough, and maybe just down to general misunderstandings. But the audience is no doubt on edge after an opening scene in which a young black man is snatched off the street to the sound of the old music hall ditty "Run Rabbit". To say more would spoil the film, but it's a brilliant twist on a known concept, and one that feels incredibly vital and relevant – it's woke.
The film is chilling and creepy, and one that digs into your brain. It's a social horror movie, but also very funny, thanks in part to Chris' scene-stealing TSA friend Rod (Lil Rel Howery). This is unsurprising, coming from one of the best comedians on TV, but it also importantly doesn't detract from the film's message. Peele emerges as a highly genre-literate director, like in the way he echoes the ability of masters like John Carpenter to turn the most unassuming of locations into places of paranoia and fear. Using deft camera work, confident editing, and on-point musical choices, he makes innocent-seeming dialogue and situations bubble with anxiety. The central performances are perfect, from something like the smallest, telling twitch in Keener's face, to Betty Gabriel's surprising outburst as the maid Georgina. Williams plays on her innocent Girls persona, while the performance of Kaluuya is crucial, acting as the link between audience and character, the vessel through which they relive familiar experiences, or have their eyes opened.
Get Out makes Peele one of the most exciting talents working right now and his directorial journey is going to be fascinating. It's a stunning debut and one of the scariest films you'll see this year. It also might surprisingly be the film – more than something like 12 Years a Slave – that will be used in future American classrooms to discuss slavery and racism.
Get Out is in cinemas from 4th May through Universal Pictures.