Sometimes you wonder who exactly a movie's been made for. After over two hours of Warren Beatty's rambling return to cinema – both onscreen and behind the camera – the answer for this film becomes pretty clear. Rules Don't Apply was made for Warren Beatty.
Beatty writes, directs, produces and stars in what could loosely be termed a biopic of legendarily eccentric billionaire Howard Hughes from 1959 to 1964. Loosely, because the film jumps between the story of the growing eccentricity of Hughes in his later years and one of the forbidden love between two of his new employees, Frank (Alden Ehrenreich) and Marla (Lily Collins). Loosely also, because what is this film? A La La Land-esque nostalgic rom-com? A satire, warning of the perils of giving yourself over to power and money? A portrait of the waning power of a genius, his descent into madness and the psychological issues that preceded it? The story of a mentally ill man, an egotist who built on his inherited wealth to negatively affect politics and entertainment – a lightly disguised commentary on Trumpism perhaps?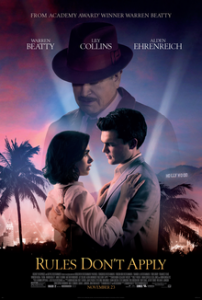 Somehow, Rules Don't Apply is, unintentionally, all and none of those things at the same time, which is quite an achievement really. The whole film feels like a scattered assortment of parts in service of what is, essentially, a pure ego trip. Scenes are given no room to breathe, cut so sharply and unexpectedly that it's no surprise to see the names of four different editors on the credits; other scenes seem to drag on for eternity. There are random five second snippets of music as if Beatty just wanted to hear them no matter their suitability, and attempts at farce and screwball comedy that fall on their face – and not in a funny way. The cast is full of talented actors – from Annette Bening and Ed Harris, to Martin Sheen and Alec Baldwin, but, partly because of the little time they're given, none of them put in a memorable performance. You can almost feel Beatty directing other actors within a scene they share, and it's clear that he's not an actor's director.
The charisma that landed Ehrenreich parts in Hail, Caesar! and the Han Solo spin-off is somehow sucked out of him in the flat, dull character of Frank. He's hired as one of the drivers who chauffeur around the numerous aspiring actresses that Hughes keeps on contract. That's how he meets Marla, the small town beauty who's come to try her luck in Hollywood. Collins gives it her all, almost channelling Audrey Hepburn in her best moments, and is the only one to really emerge with any credit. A love story like Frank and Marla's requires investment in the characters; we have to care – one way or the other – about them being together. But we're given no reason to care about them, especially when they both end up acting so out of character, just to further the Hughes-focused plot.
You wonder how aware Beatty is of the parallels he's drawn between himself and Hughes. He might be seeing them both as exceptional individuals to whom – and they actually say this in the film – the rules don't apply. Men whose professional and, let's say personal, performances were stuff of legend. Instead, what comes out is that they both surrounded themselves with a collection of yes men, all too afraid to tell them when something doesn't work. A perfect example? Hughes' treatment of women is creepy, not eccentric, and the sex scene Beatty writes himself with his young actress comes off in the same way. To make a comparison as blindingly obvious as this film would, Rules Don't Apply is Beatty's 'Spruce Goose' – a wasteful multi-million dollar project that never truly gets off the ground.
Rules Don't Apply is in cinemas from 27th April through 20th Century Fox.