Set in 1947 India, Viceroy's House is an historical drama about the handing over of sovereign rule from the British to the Indian people. The last Viceroy, Lord Louis Mountbatten (Hugh Bonneville), and his wife Edwina (Gillian Anderson) arrive to oversee the transition process.  Stifled by the oppressive heat, they quickly discover that the monumental task to which they have been assigned is even more problematic than they had anticipated.  With divisions between the Indian community, based on cultural and religious differences, Mountbatten struggles to reach a consensus with the various community leaders while Edwina attempts to soothe angst in the household with an inclusive approach.  Ghandi (Neeraj Kabi) counsels for a united India, while the Hindi and Muslim leaders look to establish separate states, including what is now Pakistan.  Meanwhile, a young Hindi man named Jeet (Manish Dayal) joins the household staff in the hope of tracking down his Muslim sweetheart Aalia (Huma Qureshi).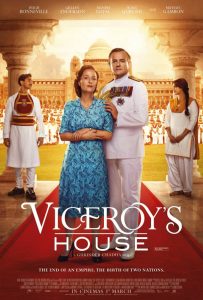 The opening act of Viceroy's House is sumptuous – a palatial residence for the Viceroy and his wife, vivid Indian street life, gorgeous fabrics, luscious visuals.  The opulence of the British dignitaries  is contrasted with the humble lives of the Indian workers, but with little judgement.  Cinematography is excellent and highlights professional performances and an idealised setting.  Unfortunately that's about where the excellence ends.  This film is written and directed by Gurinder Chadha, best known for Bride and Prejudice and Bend it Like Beckham, who has woven into the story anecdotes from her own family history.  While these details are very interesting, the sum total of this film is rather dull.
History already tells us that this is not likely to be a story with a happy ending, so the outcomes of the Viceroy's efforts are not unexpected.  What the writers seem to have done is thrown in a Romeo and Juliet subplot to give some hope to the more romantic viewer.  Separated by religious differences, Jeet and Aalia steal brief moments as Aalia denies their love and any hope of a future.
Viceroy's House is vague and convoluted in its execution; along with the Romeo and Juliet subplot, there is an 'upstairs, downstairs' theme, as well as political and social drama.  While the film has remained relatively true to history – it can't change the facts – it has imposed unnecessary drama and missed great opportunities.  Gillian Anderson and Hugh Bonneville are great actors and well cast in their roles, but unfortunately little focus is given to their dynamic as husband and wife.  These two are the most fascinating of the characters, and their relationship in a time of turmoil would have made a far more interesting frame for the narrative, particularly with the budding romance of Jeet and Aalia as a parallel.
Although visually very beautiful, Viceroy's House is a slightly boring affair.
Viceroy's House screens at the Young at Heart Festival at Palace Cinemas from 20th-26th April, ahead of a national release from 18th May through Transmission Films.