The age of six is a confusing time to be alive. It is a time when you feel like you're starting to come to grips with the world but are still not allowed to embrace it. The reasons why? Well, your parents might tell you one of a few versions. You're too small, it's dangerous, you're too young to understand. It's watered-down preparation for a future conversation. This isn't to say you aren't aware of the more complex conversations regarding your future that are taking place over your head, in the next room, on the phone, but it is an elusive string of overheard murmurs, for which you can only try to fill in the gaps.
This is the new life of Frida (Laia Artigas), a young girl whose life has been turned upside down, orphaned after a pneumonic illness has claimed her parents. Her wider family have been shielding her from the full impact of the fallout, but now the time has come for her to go and live with her aunt Marga (Bruna Cusi) and uncle Esteve (David Verdaguer), now newly adoptive parents, and their four-year-old daughter Anna (Paula Robles).
As the 'Centerpiece' of the Spanish Film Festival, this doesn't seem an obvious choice, given its lack of star power in comparison to other films screening. However, it is always nice to hear new voices and, on this debut effort, writer-director Carla Simon Pipó is an exciting one to watch.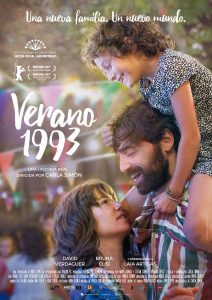 To create its slow and considered pace, Pipó's directorial debut takes the gaze of its young heroine and fuses it with the camera lens. Frida's processing of her newest environment is cautious, her eyes wandering and curious, her ears catching fragments but never the whole story. She is also almost always alone, whether by choice or not. She now takes in her surroundings largely without guidance or dotage, hearing the sounds of her life played out without emotional cues, which in part justifies the lack of a soundtrack. Best of all, Artigas only gets better as the film goes on.
Patches of music seep in and out like from a radio perched on a window sill or from a distantly strummed guitar. But the natural soundscape and loosely patched narrative largely enable us to experience Frida's sleepy new existence without enforced sentimentality. It's a refreshing change from most depictions of childhood in modern cinema as passive bystanders or bargaining points. For a child with little responsibility, Frida's life is arbitrarily relaxed and interrupted; decisions are made without her input. For day-to-day hygiene and meals this is to be expected, but it is decisions made about her custody and upbringing that create tension within the family unit, tension that in turn manifests in Frida and Anna's sibling relationship.
The raw intimacy of the setting and truly immersive performances evoke memories of old family videos, and it is no surprise that this film is in part autobiographical. The chemistry between Verdaguer, Cusi and Rubles is unwavering, portraying a family that is, on principle, accepting of Frida but that is also fiercely protective of a way of life that she wasn't part of. In this sense it is often unsettling seeing Frida strategise her way into the family's routine and smuggle some love out of them, in the process revealing some less appealing attributes. But the ensuing frustration with such character traits is only a product of our care for everyone concerned, which is a credit to Pipo's careful depiction of childhood concerns.
Indeed it is a confusing time for someone who knows only part of the story and for whom no-one is willing to tell the rest, and it shows in Simon's naturalistic approach. But while a six-year-old can't comprehend everything, clearly it is not for lack of trying.
This may be a slow journey that, much like its heroine, requires patience, but good things will come to those who wait.
Summer 1993 screened as part of the Spanish Film Festival from 20th April to 7th May 2017 at Palace Cinemas. It has its general release from 2nd August 2018 through Palace Films.