Every year 200,000 humans undertake a traditionally Christian pilgrimage beginning in Pied-de-Port-France and ending in Santiago de Compostela. If you haven't heard of it before, don't worry, we're a fair bit away from these pilgrimages in Australia. The closest you'll likely get to it is having to give the name of the walk when you are given a blue question in trivial pursuit. And if you do, it goes by the St James' Way or Path.  It's basically a 500 mile trek from Southern France ending close to a beach in western Spain. That walk is the focus of a lovely little amateur documentary Looking for Infinity: El Camino.
Creator Aaron C. Leaman disappears behind the camera letting his subjects – the road and its travellers – do all the talking. Mirroring the walk the film is slow and meditative. Interspersed between interviews are shots of rolling hills, coloured sunsets, and roads in varying states of maintenance leading into quaint towns of stone. The beauty is captured well but the experience doesn't quite translate to the screen.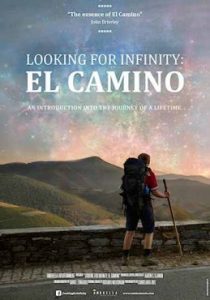 Making up the other half of this immersive documentary are the vagabonds and wayfarers in transit. There are plenty of subjects to choose from coming from extremely varied backgrounds. Despite the different nationalities and reasons for beginning such a journey, the responses and descriptions to how they feel and what they discover are surprisingly uniform and unsurprisingly enlightening. From seasoned travelers to first timers they all speak of a slower more profound relationship with reality and themselves. The  physicality and spirituality of walking seem to be intrinsically tethered.
The film with its slow revelations and lack of tension and drama is smartly compact, coming in just short of an hour. The subject matter is engaging and worthy of a high production BBC doco. The low budget (revealed to be a grand total of zero in the credits) doesn't hamper the film but does put a cap on what Leaman is able to do. Take for example the ambient instrumentals which could have been improved with a classical score to amplify the spiritual aspects. Like the walk and subjects the film is both a pithy and humble piece of filmmaking. It's well worth a look in from introverts, hippies, and anyone looking for respite from the rat race.
Looking for Infinity: El Camino screens at Palace Brighton Bay and Palace Balwyn as part of the Young at Heart Festival from 20th to 26th April.