The recent remake of Beauty and the Beast means Stockholm syndrome is all the rage again. But Disney's live action film isn't the only current release about a large-framed brute developing an intimate relationship with an innocent young woman in its captivity. Cate Shortland's Berlin Syndrome may as well be the Grimm brothers' twisted re-telling of the French fairytale, with a bit of voyeurism, paedophilia and broken bones thrown into the mix for good measure.
Berlin Syndrome is an apt title for this dark thriller, which sees Brisbane tourist Clare (Teresa Palmer) get locked inside the house of local Berliner Andi (Max Riemelt). Clare initially consents to the visit, following Andi up to his apartment after a sultry night in a foreign city. But when she awakens to find the door bolted shut and no keys in sight, she realises this is not the one-night stand she had in mind.
Shortland's Australian-made work is a welcome addition to the escape genre, a favourite of screenwriters, novelists, and team-building exercise developers who understand our innate desire to Macgyver our way out of contained spaces. Although the premise of this film isn't particularly novel, the film's strength lies in its lack of predictability.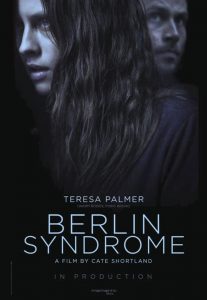 Many similarities can be drawn with Lenny Abrahamson's 2015 film Room, which was likewise more emotional thriller than Great Escape-esque operation (the captive Palmer even resembles Oscar winner Brie Larson a little). Much like the subversive Room, Berlin Syndrome isn't afraid to stray in unexpected directions. Rather than focusing on Clare's plight, the film gives the majority of screen time to Andi; we follow him to the school where he teaches, to parties, and to his father's house while Clare sits idly in his house. This is not an instructional video on how to get away from an obsessive German abductor; it's the story of the obsessive German abductor.
Riemelt is well cast as Andi. His weirdness is evident from the beginning, but Riemelt makes his character's quirks initially seem like innocent traits of a funny German. As his character's obsessiveness begins to escalate, Andi becomes more fascinating to watch. Shortland is careful not to let us empathise with him, but she at least gives us a glimpse into how his twisted mind ticks.
Berlin Syndrome is a deeply unsettling experience from start to finish, and delivers layers upon layers of unexpected creepy ingredients as the film progresses, not limited to abduction but sexual violence, fetishism, and mental illness. Thankfully the film is not as graphic as it could be, but there are certainly moments you might find yourself trying to avoid eye contact with the screen.
One ambiguity about the film is that it's unclear whether Shortland is trying to communicate a particular message, or if she's simply playing God by placing a hamster inside a snake's house just to see what will happen. Regardless of her intentions, the experiment is engrossing, and delivers the kind of experience that will keep you grounded for a few minutes after the film's conclusion as you attempt to regain your breath.
Berlin Syndrome is in cinemas from 20th April through Entertainment One.