Personal Shopper is a film that feels incomplete. A jigsaw puzzle halfway done and in terms of coherent plot it isn't far off Lynchian. Fittingly the film begins with protagonist Maureen (Kristen Stewart) spending a night alone in an empty house. Immediately there is tension. She walks through the dark house alone, every floorboard creaks. She opens a door and the hinges squeak. She moves to an unlit window and the wind begins whining. Timidly she questions the empty room for a 'Lewis'. It's all too ominous and ambiguous. It's the perfect introduction for the film where nothing will be spoon fed.
It isn't an easy film to shoe horn. One part psycho-sexual, one part horror, two parts thriller and four parts ghost story. The first ghost is that of Maureen's boss, a rich socialite who is always away or engaged when Maureen drops by her home. Shopping for her, Maureen chooses the most exclusive garments. Coveting the clothes, she surrenders to her taboo desires, risking her job to wear them in secret. In these shots she controls the camera, a portrait of femininity with the forbidden act eliciting a tense atmosphere.
This is but one arm of a multi-faceted beguiling film. Under questioning it's revealed she chooses to live in Paris as a spiritual medium, specifically in hope of contacting her recently deceased twin brother. One is left to wonder if the film's title is a misnomer when this supernatural story is the strongest, most intriguing element to the movie.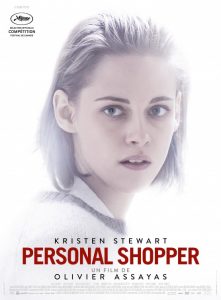 With hope of contact dwindling, Maureen is contacted by a third ghost. En route to London she receives a mysterious text message from an unknown number who has a creepy knowledge of her whereabouts. Unable to establish if the entity is corporeal or ethereal she begins to foster a relationship of control and anonymity with a lurid sexual undercurrent. It sounds exciting, but drawn out over a continual twenty minute exchange of texts it begins to slow down the film. When things inevitably get sinister the exchange does become much more interesting.
This is a French-American production. The French part is the location (Paris), the cast, and director Olivier Assayas. The American part is Kristen Stewart, and the perfect English everyone converses in. Not that French audiences seem to mind, with her petite figure and the continual cigarette between her fingers she's a local favorite having previously taking home best actress with Assayas in their previous collaboration Clouds of Sils Maria. With Personal Shopper it is Assayas' turn to win, taking out best director at the 2016 Cannes festival.
With so much going on the film manages to avoid becoming jumbled by maintaining a slow pace and sustaining long absorbing cuts. Kristen occupies these wonderfully with a subtle range of emotion. There are plenty of bridging shots to transition between the various increments of the film. These are usually of Maureen in traffic illuminated with city lights. It's clever work by Assayas.
Personal Shopper is a unique experience of filmmaking and for that alone it deserves congratulations. Though it wasn't judged to be the best film at Cannes, Assayas certainly earned his best director accolade. The creative risks he takes are hit and miss but when they land, boy do they impact. Just one highlight is a stunning poetic soliloquy concerning the human soul. The camera is behind Maureen's shoulder eavesdropping as she watches it all on her tiny phone screen. It's a piece of unusual cinematic magic. But there are also moments of forlorn stares and text exchanges that will have you wanting to pull out your own phone.  It's a film that will play on your mind weeks after viewing – compounded with an ending so cryptic and haunting it will leave plenty doubting they saw the same film.
Personal Shopper is in cinemas from 13th April through Rialto Distribution.