In crisp black and white, and unsettling for most of its long running time, autuer François Ozon has remade Ernest Lubitsch's The Broken Lullaby (76 mins) into Frantz (113 mins). Although this reviewer has not seen the original, Frantz really does overstay its welcome.
Post WWI Germany, this is a narrative that focuses on a grieving mother, Magda (Marie Gruber) and father, Doktor Hans Hoffmeister (Ernst Stötzner) who have lost their only son, Frantz (Anton von Lucke). Anna (Paula Beer) was his fiancée and still stays in the Hoffmeister household maintaining a close and warm relationship with his parents. When a stranger, Adrien (Pierre Niney), is seen putting fresh flowers on Frantz's grave, Anna starts to become obsessed with whom he might be. It isn't long before Adrien comes into the household, initially as an outsider and later as a comfort to the family. Adrien comes with news of his own.
With only Ozon's In the House for this reviewer to compare to, this is another character study. Frantz happens in the aftermath of the war, using politics as the backbone of the story, while In the House concentrates on a student and teacher exploration, using academia as the backdrop. These backgrounds are important enough on their own, but the way Ozon uses them gives his characters more integrity; it is almost as if he uses it as a crux for these characters to fall back on if need be.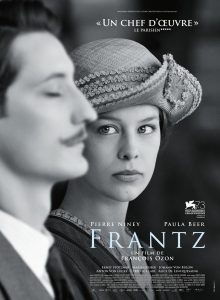 Ozon charms his audience in a cold and distant way. He never allows his audience to get a grip on what's going on, but excels instead with metaphors, tension and cinematography. There is also a dishevelment that happens in  the film's use of a black and white palate that changes to colour. Memories are exposed and articulated more clearly through this change up. This seems to suggest that these characters are their happiest when the black and white setting is removed and their colour flourishes through. It does work and adds much needed flair to the narrative but perhaps at the expense of making it too clear.
After a while the narrative pieces itself together and you do have to applaud Ozon for the way he challenges the scenario and his characters. It is a delight to see how these characters repeat each other's actions. This happens with the way we empathise with Anna and Adrien before and after secrets are revealed and change is set into motion.
Unfortunately, the length and the final conclusions of the film are a problem. Despite this length the film feels rushed with too many ideas, and instead of winding down, it winds up. You could say Frantz leaves you more with a hyponotic and impressionistic experience. There is no real closure to the story, but that doesn't really matter since it has pointed out throughout the narrative that this is not a typical linear structure, but mostly a character piece.
Frantz is in cinemas from 13th April through Sharmill Films.