Colossal is the third feature film from writer-director Nacho Vigalondo, and is part comedy, part thriller, part fantasy. Gloria (Anne Hathaway) is broke, jobless and a borderline alcoholic, relying on her boyfriend Tim (Dan Stevens) for financial support and a place to live while she parties hard.  When he unceremoniously dumps her, fed up with her drunken excuses, she is cast adrift and forced to return to her childhood home in small town America.  Conveniently her parents' house is vacant, so she moves in to sleep on the floor and try to get herself together.  Gloria runs into her old school pal Oscar (Jason Sudeikis), who has never left town and has inherited his parents' bar. In Oscar Gloria finds a new drinking buddy and a job waitressing at his bar.
Coinciding with Gloria's return to her hometown, a Godzilla-like creature starts to terrorise Seoul. Hitting the headlines daily, this monster is wreaking havoc, returning after a 30-odd year absence.  Gradually Gloria begins to realise that the monster is mirroring her own actions; this is funny when the 50 storey monster dances like a loon, not so much when it falls and crushes hundreds of people.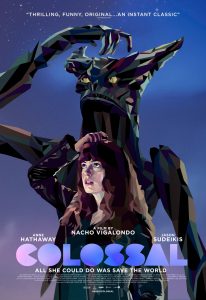 Colossal is more than a little bit confusing in its tone; it starts out with a very humorous edge, albeit a dark one.  It looks like it is going to present an interesting and funny take on substance abuse, and the 'monstrous' nature of addition.  A bit of a morality tale, with the addict coming to terms with the far-reaching consequences of their habit and resulting actions.  That's cool – it's a good premise and the film looks great so why not?  Unfortunately the film takes a much darker route, becoming more of a metaphor for abusive relationships.
When the film takes this turn, it really isn't all that funny anymore. There are still a few good gags, but the tone is markedly different. When Gloria and Oscar are drunk and obnoxious early in the film, although sad, it's partially played for laughs.  Oscar delivers a TV to Gloria as a gift; it's just a neighbourly act.  When he later sends a truck load of furniture because he needs to make up for the previous night's drunken viciousness, it is a very different gesture.  Gloria wants to get sober and stop being a monster, literally in this instance, but Oscar is possessive and controlling, even more monstrous than she.  He blackmails her, keeping her in a pattern of habitual drinking and abuse.
Anne Hathaway and Jason Sudeikis hold up really well in their roles, Hathaway in particular has great deal of depth as an actress. It's always good to see her tarnished (no taffeta princess frock here). Likewise, Sudeikis holds his own in the more serious moments of the film, quite a step away from his usual roles (think Horrible Bosses).  The film is visually fantastic, with lots of dark filtering and light to echo the sombre nature of the subplot.  Essentially the film 'works', but there  are some missed opportunities and is isn't all that it could be.
Colossal is in cinemas from 13th April through Transmission Films.