The latest in a string of excellent anime films to hit Australian cinemas following last year's Your Name and The Red Turtle comes A Silent Voice. The third film by Japanese director Naoko Yamada is many things; it's a stark look at the way that guilt can infect a life, a contemplative musing on redemption and social anxiety, and above all a sweet deeply moving little love story.
This is the story of Ishida (voiced by Miyu Irino) who we meet half way through his time in primary school. He's a confident young man, the leader of his small but close circle of friends who lives the carefree life of a preteen. It's when a new girl called Shoko (Saori Hayami) arrives at his school that things begin to change. Shoko is deaf, communicating with others by writing in her notepad, and it isn't long before Ishida begins the almost ritualistic process of bullying her, a course of action that eventually forces her to move schools.
Cut ahead a few years and things have changed. Now Ishida is a dark haired, lanky late teen who has been ostracised by almost everyone around him. He is nothing more than a shell of a man, filled with a toxic mix of nihilism and self hatred because of how he treated Shoko all those years ago. The Black Dog hangs over him like smog. As he approaches his final years of high school he is faced with two options, neither of which particularly appeals to him: track Shoko down and try to make amends, or suicide.
Be prepared to have some quiet time after seeing A Silent Voice, because this is one of the most emotional experiences you're likely to have at a cinema in 2017. Based on a manga series by the same name and complimented by the stunning animation, Yamada's film is one of the best examples of anime cinema.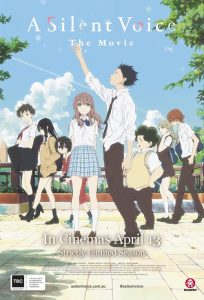 This isn't the kind of ridiculous ride characterised by giant robots, extravagant action scenes and women who look like their characters were designed by sexually dysfunctional boys who live in their parent's basement. This is more like Grave of the Fireflies – anime which has something to say and isn't afraid to rip your heart out of your chest while doing it.
The story is simple, but the delicate way that these characters and themes are handled means that it's elevated above the humble narrative. It's the nonjudgemental way that the audience gets to know Ishida that hits the hardest. For the first twenty minutes we witness him doing some of the most heinous things that any young child can do, yet we spend the rest of the film seeing him trying to make amends.
The audience's respects and sympathies are shifted multiple times in an experience akin to the empathetic maelstrom of watching an Asghar Farhadi film. It's an incredibly humbling journey, and while watching don't be surprised if you catch yourself reflecting on how you acted towards certain people during your school years.
The voice work by Miyu Irino is excellent but the true star is Saori Hayami, who manages to voice-act a deaf girl and never makes it sound exaggerated or on the verge of parody. Shoko's character design is beautiful and it's a credit to the writing and the animation department that these characters seem more real and fleshed out than many of the live action films out at the moment.
At well over two hours Yamada's film does seem quite a hefty journey and on first viewing the plot jumps around a bit, leading to moments of confusion about where and when we are on this journey. But these are tiny flaws in what amounts to be a very special film.
Bullying is a topic which is present wherever and whenever you look for it and A Silent Voice takes both a sensitive and occasionally starkly beautiful look. Be prepared for a hit of emotions that feel like a blow from a sledge hammer. This is anime at its finest. 
A Silent Voice is in cinemas from 6th April through Madman Films.