Picking up eighteen months after the events of the last season, the movie adaptation of ABC series Dance Academy (2010-2013) sees Tara (Xenia Goodwin) miserable as she works at the Sydney Opera House bar and participates in a writing course. Having broken her back as a result of slipping on a bead at an audition, she has temporarily given up her dream of ballet. But when she is given the chance to audition for the National Ballet Company by artistic director Madeline Moncur (Miranda Otto) she throws her all into reigniting her passion for dance.
Most of the gang make return appearances. Abigail (Dena Kaplan), old friend and member of the National Ballet, helps Tara with her audition piece, while Christian (Jordan Rodrigues), who now teaches hip-hop to disadvantaged youths, offers moral support in the boyfriend role. When Tara's dreams take her to New York she meets up with Kat (Alicia Banit) who is relishing her role in a popular children's television show, and Ollie (Keiynan Lonsdale) who is almost at his wit's end after repeated rejections. In Texas, Tara reteams with Ben (Thomas Lacey) whose cancer has unfortunately returned.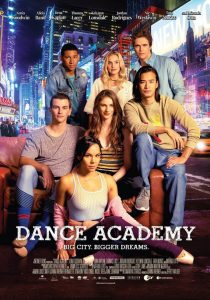 Dance Academy: The Movie does what every film adaptation of a local television series does by throwing in international locations (in this case, New York City and Austin, Texas) to make the production dazzle slightly brighter. The film's television origins remain evident, however, with the end product feeling more like an extended television episode than a feature film. It's perhaps not surprising given director Jeffrey Walker's resumé consists almost exclusively of television work (with the exception of his 2016 feature film Ali's Wedding). Similarly, to date screenwriter Samantha Strauss has written the Dance Academy series and little else. That's not to say it isn't a professional looking and sounding piece of cinema. For the most part the dialogue feels realistic instead of bordering on soap-opera schmaltz.
While the film does initially seem like it's focused entirely on Tara with little room for anyone else – especially given it follows her across three cities – it's satisfying to see all the characters come together and be given their own resolutions. The weakest aspect of the film is its attempts at romance. The relationship between Tara and Christian lacks authenticity, and its on-again-off-again thing – which I hear was a hallmark of the series – is simply boring. A random kiss between Tara and Ben also feels particularly pointless – it serves little purpose other than to excite tweens in the audience who enjoy love triangles, even though there actually isn't one.
The best aspect of the film is its portrayal of the crappier aspects of the ballet world. While every ballet film will usually show the bloodied feet, the injuries, and usually the odd eating disorder, they still tend to push the myth that becoming a ballet dancer is the ultimate accomplishment, worthy of all sacrifices. Dance Academy: The Movie conversely places greater value on health and happiness. That's not to say dreams aren't realised, but more that they are changed.
Dance Academy: The Movie certainly isn't the best dance film that's been made. Nor is it the best film made for teens. While it values realism, it isn't all that deep. Nevertheless, it has its merits and will provide some good clean fun for its target audience.
Dance Academy: The Movie is in cinemas from 6th April through Studiocanal.