Films predicated on the chasm between city and country people can often fall into the territory of twee without much effort – farmyard geese getting out of hand, expensive shoes getting muddied, locals stuck in their quirky and archaic ways. Thomas Lilti's The Country Doctor does have geese and a wide cast of locals with their own sets of small-town worries, but this thoughtful film's message does well to get past the stereotypes.
Jean-Pierre (François Cluzet) is the eponymous GP running a medical practice in rural France. His community of patients are dependent on him, and he, in his single life, is happy to oblige them with his attention. Unfortunately he has just been diagnosed with a brain tumour.
Jean-Pierre's treating doctor is prescribing chemotherapy and rest, but his community is as needy as they come and he has no replacement. Encouraged to find a new doctor – a practical but nonetheless somewhat morbid contingency plan for when the worst eventuates – he is eventually joined by Nathalie (Marianne Denicourt), a mature medical student and former nurse from the city. She is confident and willing to learn and just all-round a lovely person, but the challenge in proving she is up to the task is no sure thing, especially with Jean-Pierre's health worsening and his stubbornness a hindering influence.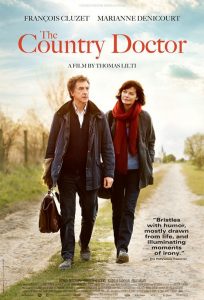 This is one of the more sanitised encounters with cancer you'll see on screen, but plainly that is not where this harmless film wants to go. The film's original title in France translates to 'Irreplaceable', which seems a more evocative description of the journey and its destination, championing the merits of community and communication in small-town health services over the cold relation of medical facts and diagnostics. Here the country doctor is seen as something of a martyr to the cause and apparently a good one is … well, yes, irreplaceable.
It would be easy to let a brain tumour dampen this film into a piano-and-strings tale of woe set to the perpetual fading light of dusk, just as it would be equally easy for it to go too far the other way and emulate the kookiness of Doc Martin. Thankfully The Country Doctor hits a nice middle-ground. The characters are rich and well-drawn, and Nathalie's bubbling chemistry with Jean-Pierre does welcome lightness into a potentially grim story. Denicourt's cheerful trainee in turn helps bring out a wide cast of local characters as Nathalie does her best to engage the community and become the impossible replacement.
Though this is predictable fare, The Country Doctor is nothing if not pleasant, running mainly on the charisma of its leads. In Lilti and Baya Kasmi's screenplay, which covers a number of medical scenarios concerning everything from abortion to end-of-life choices, the quiet and conciliatory Jean-Pierre champions a sympathetic and attentive relationship with each and every patient. His and Nathalie's noble example generally means that patience and good will win out more often than not. In that sense it's a peaceful antidote to a chaotic reality.
The Country Doctor is in cinemas from 6th April through Madman Films.