Full disclosure: I didn't grow up with the Smurfs. My childhood had a large animated blue hole where Papa Smurf and the gang should have been. In fact it's safe to say all I really knew about this blue brethren is off the hints that popular culture has provided and the sizeable education that comes with repeated viewings of Donnie Darko. So for all the Smurf aficionados out there, this review comes from someone who has never seen a Smurf movie, episode of the original series or Belgian comic strip, so the slate has been cleansed of nostalgia for the rest of this review.
Kelly Asbury's Smurfs: The Lost Village is a totally CGI reboot of Sony's Smurf franchise. The days of the wildly successful live-action films staring Hank Azaria, Neil Patrick Harris and Katy Perry are no more; now we have CGI Smurfs to fill in the very profitable gap.
In the Smurf village every Smurf has its own purpose; Nosey Smurf (voiced by Kelly Asbury) is nosey, Clumsy Smurf (Jack McBrayer) is clumsy, etc. Everyone, that is, except Smurfette (Demi Lovato), who doesn't seem to have a purpose and no one can figure out what the 'ette' in Smurfette means (Note: Smurfs are asexual). To try and figure this puzzle out, Smurfette and three others venture into the Forbidden Forest on the edge of their village to find answers before the evil wizard Gargamel (Rainn Wilson) catches them and their village.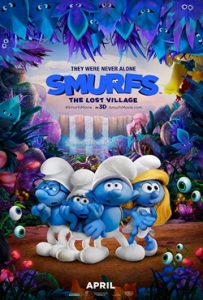 To answer the two questions that anyone reading this needs to know – 1.) No, there isn't any reason over the age of ten to see Smurfs: The Lost Village and 2.) Yes, people under the age of ten will love it. There's enough slapstick humour to satisfy the ankle biters, it's very colourful and it has a lovely message about finding your place in the world.
This is stock-standard animation. It doesn't have the heart of a Disney classic, the hilarity of a Dreamworks feature or the brilliance of Pixar. What it does have is a sense of accomplishment – it does everything it has set out to do. It's perfectly fine/average/middle-of-the-road/solid and every other adjective you can think of that encapsulates the expression "Yeah, it's okay". Nothing more and nothing less.
The only thing that deserves special mention is the subtle feminist message. The script was written by two women and centre stage is Smurfette, who goes from the outsider to a fully realised member of this universe. The message isn't overt but it's lovely to see it there.
Oh, and if that wasn't enough, Meghan Trainor recorded a catchy new single just for the film called 'I'm a Lady'. It's a total ear worm and it's going to be played on the radio ad nauseam for the next few months until everyone is sick of it. It's all about how Meghan Trainor is a lady. And being a lady is a good thing. Good for you Meghan, good for you.
Finally, it was while watching The Lost Village that I came to a startling realisation – the Smurf village is a place where a society of blue people live an idyllic lifestyle in peace alongside nature. It's only when an evil human creates a replica of them to infiltrate their village that their cosy little existence is shattered. Fortunately, the imposter is won over by the peace and love of the natives and ends up forsaking their former human master, then going to live with the very people they were sent to destroy and… Hold on a minute, that sounds suspiciously like a certain James Cameron project!
Smurfs: The Lost Village is in cinemas from 30th March through Sony Pictures.