Swedish cinema can lay claim to giving the cinematic world more than its fair share of great drama. Think of Ingmar Bergman giving us the existentialist dramas that every film student and cineliterate hipster are familiar with, Tomas Anderson making vampires cool again with Let the Right One In, the Millennium trilogy, and let's not forget all the bleak crime dramas that run repeat on SBS. Scandinavian cinema has birthed some of the best cinema in the world over the last ten years and the latest of these exports is Hannes Holm's Oscar nominated A Man Called Ove.
Rolf Lassgård plays, well… A man called Ove. A widower nearing the evening of his days, he spends his time divided between the company that he has worked for for 43 years and looking over his little housing estate like a neighbourhood watch hawk. When the company lets him go and new noisy neighbours move in next door, the grumpy old Ove decides that the best thing to do is put a rope around his neck and embrace the darkness. The plan doesn't go exactly as expected and this conservative old man with a guarded heart finds a few more annoyances to take care of before he makes his sudden and final departure.
Sweden is such a beautiful country that it's easy to forget that this cold, unforgiving place breeds a unique kind of culture. The description above doesn't sound very uplifting but Holm's film, which was based on a bestselling novel by Fredrik Backman, manages to make a feel-good comedy out of a leading character whose philosophy is that "fate is the sum total of our own stupidity".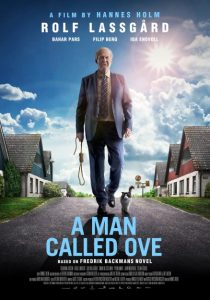 It works largely on the foundation of Lassgård's performance, who walks the tightrope of making his grumpy, rude and cynical character somehow loveable. Ove is like the sum total of every grumpy old man you see going for a walk and muttering about 'kids today' yet the audience grows to care about this old curmudgeon.
The flashback sequences showing a young Ove with his wife are a very good edition, showing off the gorgeous Swedish countryside with a simple yet beautiful little love story which gives this humorous little film a big heart. Ida Engvoll as Ove's young wife, and Filip Berg in particular as Ove in flashback, make for a beautiful onscreen duo with a joint collection of fair blonde hair, blue eyes and high cheek bones – did I mention they're Swedish?
Some of the localised jokes seem to sail over the heads of non-Swedish audiences. For example, there's an ongoing gag about a neighbour buying a Saab. For this I can only assume that Volvo vs Saab is like the Scandinavian equivalent of the ongoing Holden vs Ford cold war.
If there's a negative here, it's that the film does run a little over time because patience was wearing thin by the time the credits started rolling. All in all this is a simple but lovely little film. It's the kind of experience that isn't going to tax the brain or offend anyone at all. Best enjoyed with grandparents, a cup of tea and a box of tissues.
A Man Called Ove is in cinemas from 30th March through Rialto Distribution.