The nottly anticipated follow-up to 2011 British-Australian co-production and terribly flat, worn-out "comedy" trying desperately to cash in on the success of both the Bridesmaids phenomenon and its breakout star Rebel Wilson, A Few Less Men follows the wacky hijinx and terribly predictable antics of A Few Best Men without the saving grace of Wilson's obscure off-beat charm. Clearly too hard-up to go the Wilson root and back out of the sequel, the recently married straight man David (Xavier Samuel), skirt-chaser Tom (Kris Marshall) and clueless loser Graham (Kevin Bishop) are all back on an adventure to get their recently deceased best friend Luke home to be buried by his bereaved family.
After crashing the private jet that would surely have hastened the suffering along significantly, the three expats find themselves dealing with a slew of unusual outback Australians who fit no stereotype this writer is aware of at all. Some drugged out desert folk staging a wannabe burning man decide to paint Luke's body and try to burn him, prompting the three friends to reclaim their friend and put him inside the only empty vessel they can find – which just so happens to be a huge gold penis – and roll him to the nearest town. You can guess where the shenanigans go from here.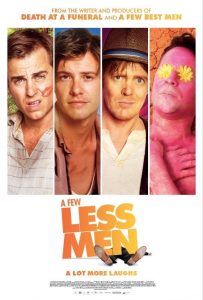 Deborah Mailman makes a surprise cameo as a fed-up outback copper, Lynette Curran shows up to help the boys out and deliver the only line in the film to elicit a laugh from this reviewer (purely because it's funny when older ladies say the C word), and Shane Jacobson goes all kinds of Norman Bates on the boys for seemingly no apparent reason but to then have them all running around in make-up and dresses.
If you savour your sanity and dignity, do not see this film. Yes, we should all be supporting Australian film and we can't expect them all to be masterpieces like Lion. But the industry is surely in dire straights when a script as bad as this not only makes it from the brain of Dean Craig (famous for the actually hilarious Death At A Funeral) to paper, then from there to developers, and then from there to actually being made and released without anyone stopping to say "maybe this is a colossal waste of money".
The only thing slightly interesting about the film that kept this reviewer's eyes open was just quite how hot Australian born talent (and way too good for this trite) Xavier Samuel really is. Hopefully his next role choice will be a bit more inspired.
A Few Less Men is in cinemas from 9th March through Studiocanal.
0 blergs