It's quite difficult to offer much by way of insight into Miss Sloane without giving much of the story away. The film relies on its various plot turns and fast pace for effect, so even the most considered revelation as a means of analysis is fraught with the danger of spoilers. Directed by John Madden, Miss Sloane is a political thriller which relies heavily on the study of its title character.
Elizabeth Sloane (Jessica Chastain) is a top Washington lobbyist, sought after for her uncompromising approach and her ability to seemingly bend the system to her will.  When she is sought by the conservative gun movement to lure new votes, from women wanting the protection and peace of mind only personal weaponry can provide, she scoffs at the notion and in the faces of some very powerful people.  Word gets out, and she is poached by the other side, the gun-control lobby who are looking to pass a bill that will see a simple license check process implemented for new gun purchases.  It's a small operation, a rabble of a team with strong values, lead by Rodolfo Schmidt (Mark Strong). It's the exact counterpoint to the big firm she is leaving. When Elizabeth jumps ship to head to the new, boutique firm, most of her original team follow her. The rest are now enemies in the fight to pass the bill.  Gun control is a tough sell in Washington; getting in the last move is the key to winning the long game.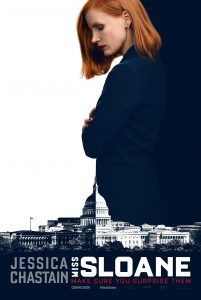 The plot to the film is framed by a senate committee inquiry, where Elizabeth is essentially defending herself against corruption charges. The bulk of the story is told in flashbacks to the earlier machinations that lead to the predicament. Attempting to find a cinematic companion piece to Miss Sloane proves elusive; in fact the most suitable counterparts are television series – House of Cards and The Newsroom being the obvious, recent examples.  The fast paced nature of dialogue and multiple plot twists are standard in such series.  But the difference is the nature of television is long form and allows eight to twelve hours for the various changes of direction, whereas Miss Sloane ambitiously does so in just over two hours.   This is the first script from writer Jonathan Perera, it's a solid entry, albeit dialogue heavy.
Jessica Chastain as Elizabeth is given a very slick look: an enviable wardrobe, coiffured hair and bold, statement lipstick.  Elizabeth is a commanding presence, and Chastain is effective in realising this in her performance, as well as being beautifully filmed.  She is especially good in a few of the film's quieter moments; scenes when she is alone are standout. It is odd to see a woman in this role, as these types of political players tend to be men, with Ryan Gosling in The Ides of March springing to mind.  But odd is good, and Chastain delivers.
Miss Sloane has a really interesting opportunity, which it ultimately squanders in an effort to be political rather than personal. The character of Elizabeth should be fascinating, and she is; the viewer strives to understand her and glean some sort of back story. There are a few blatant hints, but ultimately Liz remains enigmatic. That's fine – plenty of characters leave us wanting more, or an explanation, at least – but this feels a little like we have been ripped off. There is no need for some sort of weepy or contrite justification, but something more would be nice.
Miss Sloane is in cinemas from 2nd March through Roadshow Films.