In 2009 Fremantle based writer Craig Silvey released the novel Jasper Jones and it quickly became a hit with critics and readers alike. In 2014 Kate Mulvany adapted the story into a stage production and over the next two years it was performed to rave reviews by theatre companies the nation over. It is then only fitting that the tale of small town Australia has been adapted to the big screen.
Protagonist Charlie Buktin (Levi Miller) is a bookish boy of fourteen who lives in rural Western Australia. Set over the scorching hot Summer holidays of 1969, Charlie's life changes forever when town outcast, half white-half Aboriginal Jasper Jones (Aaron L. McGrath) knocks on his window in the middle of the night and takes him to a shocking scene in the bush. Vilified purely because of his race, Jasper enlists Charlie's help unraveling the mystery and clearing his name.
Small town prejudice is at the forefront of this film as Charlie's best friend Jeffrey Lu (Charles Wu), a cricket-obsessed son of Vietnamese immigrants, is vilified by people in the town who have lost family members to the Vietnam War and have no practical outlet for their anger or frustration.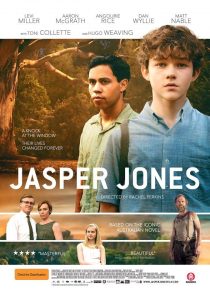 Many issues of prejudice, oppression, racism, domestic abuse, isolation and the hardships of coming of age are tackled throughout the film and handled with varying degrees of outback charm and tact. Top billed Toni Collette is perfect as the frustrated slightly neurotic 1960s small town housewife and mother to Charlie, setting a poor example for her son. Fellow Aussie film stalwart Hugo Weaving is somewhat wasted in the role of Mad Jack Lionel, a local madman feared and misunderstood by local children who believe he translated his abattoir experience into a murderous hobby.
As tales of small town Australia are concerned, Jasper Jones captures the naivety of a bored, majority white, isolated town, where drama unfolds due to pre-held notions, miscommunication and judging people by their skin colour and not who they are as people. The film doesn't quite capture the nuanced psychosis of isolated communities as well as 2015's The Dressmaker, however the strong Australia cast give the characters strong presence of self, and plenty of colour.
Many fans of director Rachel Perkins' Bran Nue Dae will find Jasper Jones quite subtle by comparison, with set pieces cutting from one scene to the next without musicality. Jasper Jones will find a place in the beloved Australian Film canon, it is an enjoyable film with some genuine laugh out loud moments and odd plot twists.
Jasper Jones is in cinemas from 2nd March through Madman Films.