Clara is many things: a retired music critic, a widow, a cancer survivor, a mother to three adult children. Now she is a stumbling point. Aquarius, an old seafront apartment complex in the Brazilian resort town of Recife, has been in the family for decades. She has seen the apartment blocks rise around her, the old charm dwarfed and almost forgotten in the shadow of modernisation. Not by Clara, however. Now 65, she is the last resident of this humble but elegant estate. The rest have been bought out, leaving what her daughter describes as a 'ghost building'. The developers are trying to coax her out, but Clara is not budging. This is her home.
It is hard to not to draw parallels between the coastal development depicted in Aquarius and the same effect here in Australia and around the world, where seaside communities struggle to retain local identity in environments increasingly defined more by their property value than the sense of community that someone like Clara attributes to her apartment. This theme of identity is a key theme under writer-director Kleber Mendonça Filho's patient and observant gaze.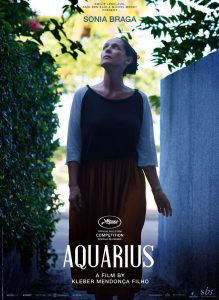 Like its setting and heroine, Aquarius is unhurried, but what could have seemed an age with its 142-minute running time is instead made fresh by a richly nuanced portrait of one woman, and it is credit to Sonia Braga's immersive performance that Aquarius is such an engrossing experience. Being an endangered species in her dying apartment complex has cultivated Clara's stubbornness as she plants her feet ever more firmly to the ground she feels to be home. But as much as this film could have boiled down to an angry old woman worried about losing her home and writing pleading letters to the local council, Filho and Braga offer something more.
While the property dispute makes for some entertaining exchanges with Diego (an ambitious young graduate project manager played by Humberto Carrão) as Clara asserts her claim, the threat of being uprooted forces a kind of catharsis onto this ageing woman's perception of the world. The tension engendered by the buyout proposal has a ripple effect among her closest circles, forcing her to consider the experiences and memories of this place that has become a part of her identity: the husband she lost, the aunt she idolised, the music she made a career of, the cancer she survived, the hair that may never have grown back, and the breast that never would.
This is not simply an idealist's story of defiance. Braga's inhabitation of all that Clara is ensures that this is just as much a dissection of the process of ageing: its joys, its foibles, its regrets but also its rights. In that sense Filho's direction is utterly refreshing – refreshing that the property dispute is not used so much as a basis for conflict but for compassionate reflection.
Aquarius is in cinemas from 23rd February through Rialto Distribution.