The Great Wall opens with prologue text that gives us some information about the Great Wall of China. It decidedly tells us that there are important historical events associated with the wall, and that there are also legends that involve it. The Great Wall is said to cover one of the legends.
But even with this introduction, one still finds the narrative that unfolds bizarre and incomprehensible. After a brief scene that displays Matt Damon's character (William) aptitude in battle, we are confronted by misshapen, swollen beasts that try to ascend the wall to attack the Chinese citizenry. At this point in the film, we know nothing about the beasts, nor their motivations or purpose. Later on, some clumsy, undisguised exposition tells us that they are out to destroy humanity (for reasons that are unknown). Our first reaction to the beasts is pure shock at the outlandishness of what we are seeing. What probably concerns us more than this is the reckless lack of care of director Zhang Yimou in creating such generic beasts.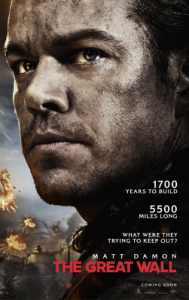 William is a soldier for hire – having fought in Italy, Spain and now China. On an assignment to acquire some kind of elusive 'black powder', he and his partner Tovar (Pedro Pascal) are captured by an unnamed Chinese battalion, eventually led by Lin (Tian Jing). William quickly proves himself worth keeping alive, as he helps protect the wall from the incoming beasts.
At this point in Matt Damon's career, it is pretty inconceivable that he would have chosen such a role as this. It is wafer-thin, sustained only by hackneyed one-liners, moral platitudes and surprisingly lacklustre badassery. Surely the only reason he took on the role was that he needed the money, because there is no way that he took it for the merit in the screenplay. His supporting cast, particularly Jing and Pascal, follow in Damon's footsteps. Admittedly, both are provided with poorly-written characters, but they fail to do anything to remotely animate their characters.
In some spots, the action sequences of the film are impressive. But this is rare. For the most part, including the action scenes, the film rings of a deafening banality. Perhaps it can be best encapsulated as a bad Hobbit film.
Even though the action genre comes with lowered cinematic expectations, The Great Wall is a poor manifestation of the genre. With its absence of anything enlivening or 'fun', it is one of those films that slip out of one's mind pretty quickly.
The Great Wall is in cinemas from 16th February through Universal Pictures.