"Some people build fences to keep people out…and other people build fences to keep people in" – August Wilson, Fences.
Boundaries, borders, divisions, and the interiors and exteriors they produce: Fences, directed and starring Denzel Washington, explores the worlds we create and nourish for ourselves and the spaces we project and impose on others. Playwright August Wilson, adapting his own play before he passed away in 2005, explores these themes in 1950s Pittsburgh, focusing on the daily struggles of an African-American couple and their son against the harsh inertia and stifling barriers of life's realities. Both Washington and Viola Davis assume the same roles they played in the 2010 Broadway revival, and put in searing, soaring performances. In opting to maintain the intimate, modest atmosphere of a play, attention is firmly focused on the visceral emotions of the characters, allowing complex and multi-faceted portrayals of African-American experiences to emerge and take shape.
Troy Maxson (Washington) lives with his wife of eighteen years Rose (Davis) and their 17-year-old son Cory (Jovan Adepo). He works as a waste collector, but he often reminisces about his career as a talented baseball player, and the discrimination he believes prevented him from achieving more. Still bitter, and convinced that Cory will suffer the same discrimination, Troy is adamant that Cory avoid pursuing a sports career despite being offered promising opportunities. Throughout the film, Troy also receives visits from Lyons (Russell Hornsby), his adult son from a previous relationship, and his brother Gabriel (Mykelti Williamson), who was injured in World War II and received money from the government which helped Troy buy his family home. These relationships become increasingly strained throughout the film, until Troy's insecurities, regrets and mistakes accumulate and threaten to destabilise his life.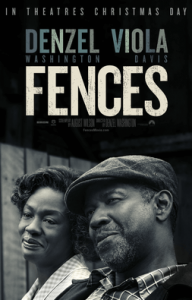 What is most immediately apparent about the film is its sheer verbosity. From the opening scene there is an almost steady barrage of words – conversations and dialogue impel the film's pace and rhythms. Washington's sheer ferocity as Troy is something to behold. He fully immerses himself in Wilson's screenplay, and he delivers his lengthy monologues with insatiable passion. Through his domineering presence, Troy has been able to fashion a world for himself, one which he feels the need to constantly maintain against its own internal fractures. It is one of Washington's most impressive performances, combining his commanding screen charisma with a towering ego and a defiant vulnerability. In contrast, for most of the first half of the film Davis exudes warmth and loyalty and portrays Rose with composed strength and resilience. In the end though, this only makes her eventual climactic scene all the more heartbreaking and cathartic as she tries to give herself space to just breathe in Troy's stifling presence.
Washington's fidelity to the source material means that he resists any urge to render it more 'cinematic', instead retaining an unfussy aesthetic and allowing the thematically rich and visceral dialogue to provide all the 'action'. Additionally, the fact that the film is confined to, for the most part, a single location, is intended to heighten the atmosphere of feeling trapped and stagnant. More importantly, in a cinematic landscape which arguably remains content to producing superficial depictions of characters from minority groups all too often, this is a film which firmly places African-American experiences at its centre, foregrounding race-relations in America and serving as a sobering reminder that the American Dream was not, and is not, equally accessible for all.
The film may be slightly long (especially towards the end), but undeniably Fences is expertly directed and acted, relying on its remarkably talented cast to powerfully convey realities which persist to this day.
Fences is in cinemas from 9th February through Paramount Pictures.