With The Handmaiden, director Park Chan-wook (perhaps best known for Oldboy) adds another visually indulgent and thematically risqué film to his resume. The screenplay, written by Chan-wook and Chung Seo-kyung, is based on 'Fingersmith' by Sarah Waters, a Victorian crime novel. However, Chan-wook manages to adapt this source material to Japanese-occupied Korea in the early twentieth-century with stylish aplomb. Focusing on the complicated and entangled relationship between a count, an heiress and her maid, Chan-wook has crafted a sensuous psychological thriller with a polished visual sensibility, unfurling the convoluted plot with a measured, subtle pacing. This is Chan-wook in fine form, and the film is a highly accomplished work which succeeds on multiple levels.
A con-man named Count Fujiwara (Ha Jung-woo) hires a pickpocket named Sook-hee (Kim Tae-ri) to be the maid for Japanese heiress Lady Hideko (Kim Min-hee). The Count hopes to marry Hideko, but then have her committed to an insane asylum in order to inherit her considerable fortune – he enlists Sook-hee to help his plan come to fruition. Lady Hideko lives on a wealthy property under the watchful eye of her overbearing Uncle Kouzuki (Cho Jin-woong), and is haunted by memories of her aunt's suicide. Her loneliness prompts her to become close with Sook-hee, and soon she expresses her ambivalence towards the Count and the impending nuptials. Thereafter, the film takes on some surprising narrative plot twists (which will not be discussed here) which are erotic, confronting, even humourous, making for highly entertaining viewing.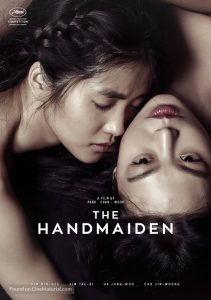 Taking in a holistic view, Chan-wook's fantastic control of narrative construction and perspective stands out as particularly impressive. There are three sections, and with each successive transition further shades and dimensions of duplicity and manipulation, of power and influence, both gendered and class-based, are added. The two lead female performances stand out in particular because they navigate the screenplay's subtle moods and rhythms with consummate skill. Together, they make the film an intriguing study of moves and counter-moves.
The film's themes also benefit from the vividly realised and executed cinematography and costumes. Chung-hoon Chung's cinematography is striking for its darkly sensuous colour palette, which seductively mirrors the plot. Some images could almost be mistaken as dream sequences. The film cleverly juxtaposes similar images in the three sections to blur boundaries and play with perception, and its vivid beauty is deceptively simple, almost distracting, in its lavishness. The costume design by Sang-gyeong Jo, including gowns, corsets, and kiminos, is similarly lush, detailed, and suggestive in its aesthetic.
The Handmaiden is an indulgent visual feast and an absorbingly tense erotic thriller, and under Chan-wook's assured direction its skilfully crafted elements come together with seamless ease.