The Coming War on China is a dry but humane look at the politics of war by journalist John Pilger, his 60th film for ITV, a free on-demand British platform. Thankfully you can see this documentary and selected cinemas in Australia.
This is a study on how people in power have and will effect us socially, politically and economically. Pilger plainly and factually shows how the US military bases, situated from Australia through to Japan and the Marshall Islands in the Pacific, result in devastation and intimidation. The Coming War on China is as important as it is sad and scary.
Pilger's two-hour narrative is comprehendible. This is achieved through the breakdown of the film's chapters exploring the affected areas. Emotional throughout, it is also an exploration that makes it a lot easier to understand slabs of info and history. The first section centres on the Island of Bikini Atoll in the Marshall Islands. Bikini Atoll has been destroyed by US nuclear experimentation. The summary here is that the island, animals and its indigenous locals have been abused and prodded scientifically, with many either dying or suffering from cancer. Personalising these stories and watching real footage from the time unfold make this a tearful and agonising experience. The next part tames the tears and gets the brain thinking. It introduces China, in particular Shanghai, as a superpower and explores why it's perceived as a threat to the US. Perhaps with more irony, it shows the different ideologies between east and west.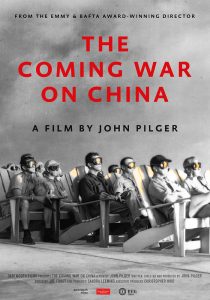 As the driving force, Pilger's vocal strength, not to mention the way footage is articulated, is smooth and poignant. Pilger has done the research and presents it with conviction. This sense of authority allows the viewer to share with his liberation. The Coming War on China is straightforward. It goes back to basic storytelling and is not about fussy camerawork or aesthetics. Yet is still uses the right emotions and material. Its confidence shows exactly why it has been made; it is a forum to deliver what the government and media have been controlling and hiding from the rest of society. It is about showing the cold hard facts and how you can interpret this information politically and socially.
The latter and final stages employ empathy again, focusing on Okinawa, an island of Japan, and JeJu, of South Korea, which are also islands occupied by the US military. However, the locals demonstrate resistance, reinforcing Pilger's final words of optimism. Maybe brazen, John Pilger is not here to be nuanced or light. Equally, he is different to the popular Louis Theroux style of journalism. The Coming War on China isn't funny or obnoxious. Pilger doesn't manipulate his subjects or show typically dumb Americans. Regardless of having speakers that either represent the US military, or who are actual survivors of nuclear testing, Pilger lets his subjects speak. In order to get a reaction Pilger (maybe in Theroux style though) shows our current political reality. President Donald Trump is shown in almost dictatorial footage, of course, talking about China.
This documentary sheds some hope, even if the reality we face could very well be doomed. Pilger is a prevailing light of truth and shows that light exactly.
The Coming War on China screens exclusively at Cinema Nova from 9th February.