Few filmmakers have had such a strong and profound effect on contemporary cinema in the span of just three feature films as writer, director, and award winning playwright, Kenneth Lonergan. He debuted with You Can Count On Me (1999) – perhaps the best variation of prodigal son returning to small town America in what is at this point its own subgenre. Following this he returned with Margaret, an at once epic and devastatingly intimate mediation on truth and fate. Margaret was filmed in 2005 but shelved for six years because Lonergan struggled to mould it into a finished form (he finally approved of a three hour extended edition for home video). His newest opus is Manchester by the Sea, which has already been nominated for among other awards, Best Picture and Best Director at this year's Oscars.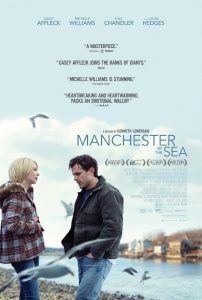 The film involves a middle aged man, Lee Chandler (Casey Affleck), who works as a janitor for a tenement building in Boston. He is bearded, gruff, honest to the point of rudeness with the tenants, and resides in a solitary basement. He is clearly a man with a tortured past. When his brother, Joe (Kyle Chandler) has a heart attack, he is called by the hospital to return immediately to his titular home town. He doesn't make it in time and when Joe dies, Lee is forced to carry out funeral arrangements for his brother while looking after his teenage nephew, Patrick (Lucas Hedges). The narrative is intertwined with flashbacks that explain just why Lee is the way he is and the issues he needs to overcome to see his brother's wishes through.
The performances in the film are incredible. Casey Affleck gives a dynamic and nuanced career best performance which should make him a sure bet for Best Actor on Oscar night. Equally as impressive is Michelle Williams as Lee's ex-wife; her New Hampshire accent is incredible, drawing attention to itself only in its subtlety and restraint. Rising star Lucas Hedges more than holds his own with Affleck and crafts an entirely realised character out of what could otherwise have been a fairly one dimensional teen with some showy dramatic scenes.
As incredible as the cast is, Lonergan (who also has an amusing cameo as 'Manchester Pedestrian') is the real star of the film. His story is genuinely emotional without ever feeling manipulative and he crafts characters that the audience can understand and empathise with regardless of their faults. He also injects a surprising amount of humour into his dialogue which saves the film when it becomes labored in sadness as necessitated by the plot.
Perhaps the best film of the year, Manchester by the Sea is a must see.
Manchester by the Sea is in cinemas from 2nd February through Universal Pictures.