To summarise Moonlight in one word – visceral. It would also be accurate to describe it as a gay black love story. Yet that somehow feels more reductive then that one word. The film is raw, cutting through surface emotions, grinding against bone. Making it all the better is the fact it's come from virtually nowhere. With the exception of screen name Naomie Harris every major player here is relatively unheard of.
The film is itself an adaptation of the play 'In Moonlight Black Boys Look Blue', an autobiographical screenplay from Tarell McCraney. It's a given that theatre adaptations produce three dimensional characters. The biographical nature of the screenplay only adds to the verisimilitude of the characters. The fact it was shot in the poverty stricken, violence prone areas of Miami adds to the palpable reality.
The story is told in three parts – Little, Shiron, and Black. These are all names given to the protagonist through three stages of his life. The first stage is Little played by Alex Hibbert. A boy of about 8, he is reserved, quiet, alienated by his peers. His mother is a crack addict and Little's only refuge is found under the roof of father figure Juan, a local drug dealer, and Juan's partner Teresa (played ever so sweetly by singer Janelle Monae). One of the few times Little speaks is to ask Juan what a faggot is, and then if he is one. Juan and Teresa provide his only escape. It's heartbreaking when Little has Juan confirm he deals drugs, tying together in his own mind the indirect connection Juan has on Little's broken household.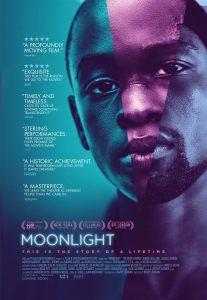 The second verse of the film is titled Shiron, who is now a boy in high school played by Ashton Sanders. He isn't pushed over anymore, now fists are thrown  and when he falls he is kicked viciously. His has cultivated a friendship with Kevin from childhood. Kevin fits in more easily within the ghetto subculture with his more pronounced masculinity and adaptable social deftness. The boys contrast and gravitate to each other.
The third and final act is Black, a name given to Shiron by Kevin. Shiron, now a man, is no longer skinny but muscular and outwardly strong. He surrounds himself with opulent possessions and jewelry but remains the insecure deeply introverted boy. Trevante Rhodes delivers a masterstroke performance to portray all this. In this final act, Black, successful and no longer in Miami, receives a phone call from Kevin and returns home.
This is a slow burning film. The synopsis isn't exactly lengthy, the characters and themes given weight and time to process them intellectually. Many of the greatest thematic films of the recent era (think Amour and A Separation) have little plot but prodigious themes and emotions bursting from within the frames. With the focus on one young man's life over several periods it would be a mistake to find Moonlight analogous to Linklater's American exploration of male youth, Boyhood. Moonlight's deep tension and unresolved beauty stems from the confines of masculinity, environment and race that Shiron finds himself in.
While characters, environment and plot are all integral to a movie's success, what distinguishes Moonlight as not just a great film but a sublime one are the technical aspects. The editing is on point, allowing the film space and time to breath in each take, allowing emotions to resonate. The score and music is a mix of modern and classic. String instruments accentuate and fluctuate with the moods of Shiron. In one hauntingly memorable scene Little returns home late. He finds his mother waiting to berate him verbally, her voice is slowly muted and a stirring chorus of wood and strings drown her out until all that matters on screen are her violent gesticulations and Shiron's resignation and acceptance.
To reiterate, this is much more than a gay black love story. This is a revelation of toxic masculinity within black subculture. And even deeper than that, it's a cinematic epiphany on what it is to be a man and the choices made to define oneself, or be defined. Like the poetic title of the play 'In Moonlight Black Boys Shine Blue', a phrase repeated throughout the film, the viewer is forced  to look at black boys and men in a new, transformative light.  All embodied within the emotional resonance of one man's journey towards finding his own place in the world. Subliminal and visceral, it is not to be missed. Director Barry Jenkins is to be congratulated on such an immense film that comes from relatively nowhere.
Moonlight is in cinemas from 26th January through Roadshow Films.