Be prepared for swearing. Be prepared for evasive parkour. Be prepared for a moose carcass displayed in a case of it's own urine. Laird is an internet billionaire. He has no filter, he is no holds barred, all enthusiasm, shirtless, and he's coming for your daughter. Well, Ned's daughter. This leaves Ned to ask, Why Him?
Stephanie Fleming (Zoey Deutch) has invited her family from their home in Michigan to Los Angeles for Christmas. They arrive to discover that not only does Stephanie have a boyfriend who none of them have heard about, they are all going to be staying with him at his exclusive property.
Laird (James Franco) has had an unusual upbringing, and has managed to make a fortune designing video games. For Stephanie's old school father Ned (Bryan Cranston), Laird is all too much. Yoga, shirtless-ness, computer jargon, paperless toilets; Ned is unimpressed by Laird and his lifestyle, even more so when Laird confides his intention to propose to Stephanie, asking for Ned's blessing. Ned is convinced that Laird is bad news, especially as the rest of the family become more and more enamoured with Laird's guileless charm. In his efforts to expose Laird, Ned runs the risk of alienating Stephanie and the rest of his family too.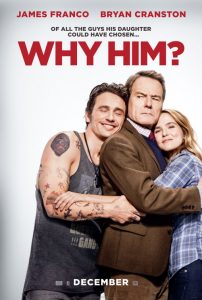 Why Him? is a very funny film, mostly thanks to an excellent cast and a more than reasonable screenplay. Franco and Cranston are perfectly matched as a father and potential son-in-law; they have a good chemistry and respond well to one another. Megan Mullally is Ned's wife Barb; she gets great lines which she delivers perfectly, but her physical comedy is superb. Perhaps best known for her role in TVs Will and Grace, Mullally has a wonderful range of expressions, a unique tone of voice, and possibly delivers the best side-eye in the business. Keegan-Michael Key plays Laird's assistant and estate manager; he is relatively unknown but gives a strange and wonderful balance to the rest of the cast.
Writer and Director John Hamburg worked on the Zoolander screenplay, as well as writing and directing Along Came Polly, an underrated gem (with Bryan Brown in a great support role). It is clear he understands the machinations of comedy, and is capable of producing good work.
There is nothing especially original about this film, but that's not really a problem here. There is something to be said for sticking to the formula, especially when the formula is a good one – possibly this sentiment is becoming a mantra for this reviewer, particularly where (romantic) comedy is concerned. Why work outside the conventions, when the conventions are rock solid? Of course there are exceptions, by Why Him? proves the point. It sticks with the rules, and it delivers.
Why Him? is in cinemas from 26th December through 20th Century Fox.