It doesn't seem like too long ago, but only last year Disney breathed fresh life into cinema's greatest ever space political drama. With four billion dollars worth of seeds sown, the giant mouse is now reaping. With plans to continue well past Episode 7 in the works, Rogue One deviates from that main story line to take us all the way back to pre-Episode 4 to inspect how those pesky rebels actually managed to get a hold of the plans to the planet-abolishing death star. This isn't a small detour either, but a fully fleshed out, intricate story of goodies, baddies and the in-betweens. And with a few whispers to and cameos of beloved characters of course.
Writers Chris Weitz and Tony Gilroy have constructed a great bridging story centered on an unlikely heroine, Jyn Erso (Felicity Jones). While she is now the second female lead in a row, she and Rey bear few similarities. Jyn is dragged semi-reluctantly into the rebel conflict by Cassian Andor (Diego Luna), a passionate rebel with ulterior motives. Jyn is chosen to aid the rebels because of her relation to her father, an honorable man of genius intellect imprisoned to work on the death star, Galen Erso (Mads Mikkelsen who is a standout in a cast of phenomenal talent).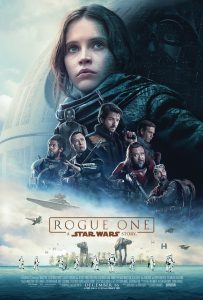 On the imperial side is Australia's own Ben Mendelsohn sublimely playing Orson Krennic, a general in charge of developing the death star. Caught between naked ambition and blindness he finds himself continually answering to Grand Moff Tarkin. If that name doesn't ring a bell his face certainly will; think back to Darth's right hand man during the "I find your lack of faith disturbing" scene. The actor Peter Cushing is long deceased and Tarkin is brought to the screen with unnerving CGI magic. While the CGI is impressive Hollywood still hasn't managed to escape the dreaded Uncanny Valley. Besides all that, don't forget the other can of worms of bringing to life a dead man. Crispin Glover's lawsuit against Universal Pictures for recreating his own likeness in Back to the Future 2 raises some interesting questions.
While the acting and characters are fantastic, the story itself is a bit light. Initially the characters and locations are garbled together. After a purposefully ambiguous opening sequence and hallmark commanding flow of words, there are several more sequences that all could have opened the film. The result is a 'Who is that again?' effect, but once the narrative starts to flow these issues are ironed out.
For the Star Wars nerds there are plenty of hallmarks to keep you entertained. Highlights include yet another show-stealing droid with wonderful comedic timing (Alan Tudyk), and a tantalising new glimpse to the constitution of 'The Force'. With the chronological setting, director Gareth Edwards has delightfully resurrected a good chunk of the cheesiness which harks back to the original trilogy.
The motivations and themes driving the film are as interesting and relevant as ever. The tale of religion, extremism, terrorism, rebels and tyrants veiled within a space opera are a great mirror to the zeitgeist of now. Boring politics aside, the greatest frisson of excitement stems from the whispers, allusions and cameos of a few minor and major characters. The main one being (SPOILER if you haven't seen the trailer) Lord Vader himself of course. The few scenes he is in are dominated by his epic aura.
Making up for a shaky start, the ending is sublime story telling. The back drop of a tropical beach makes for a great juxtaposition of climactic alien atmosphere within an earthly utopian backdrop. It's unsettling, but not in a bad way. There are plenty of tender moments and even a cynic will be surprised with the direction and risks a manufactured film like this can take. The take home is that Rogue One is an above average story, with great acting, a few hiccups, and it gets bonus points for being within the Star Wars canon now.
Rogue One: A Star Wars Story is in cinemas from 15th December through Disney.