Award winning director and producer Steven Cantor takes us on a journey through the life of controversial "bad boy ballerina" Sergei Polunin in this compelling documentary.
Regardless of whether you are familiar with the subject matter, ignorance will not hinder the ability to view and enjoy Dancer. It's not so much a telling of how gruelling it is to be a dancer or how tough ballet is on the body, although these things are touched upon. It is a story of sacrifice, rebellion, redemption, tattoos, and, if you can manage to shift your eyes away from the impressive if not slightly aggressive dance belt bulge, the beauty of the dance and how Sergei executes it is truly breathtaking. He is a once in a generation talent even for a dance neophyte; when you see him you can understand why he was the London Ballet's youngest ever principal dancer.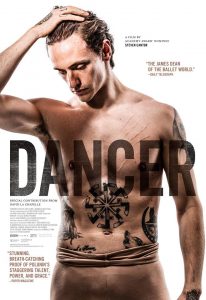 There is no doubt that from an early age the Ukrainian born Sergei Polunin had a raw talent which his mother identified and nurtured. At a crossroads in his youth his mother selected for him to pursue ballet instead of gymnastics, and at thirteen speaking no English he joined the British Royal Ballet School. In his own words, this was when "the fun was over". His whole family rallied selflessly behind this dream and his potential which served as both a blessing and a curse for Polunin as he struggles now with the confines of traditional ballet and the burden of responsibility his gift has left him with. There is no shortage of footage of him from a very young age, and that – coupled with the candid interviews with his family and fellow dancers, notably Jade Hale-Christof and roommate Valentino Zucchetti – helps to provide an understanding of where Sergei is today and how he got here.
What the film does not do is really give you a sense of who Sergei is. Is he a bad boy? He remains reasonably distant as the main subject and we never seem to see any great fluctuation of emotion aside from when he is dancing, which becomes a little frustrating towards the end. While people often discuss what he is like, we don't seem to see him engaging with others much aside from a touching visit to an old dance teacher from home. In most of the footage from his friends he is asleep while they draw on his face – classic bad boy pranking. It makes you wonder if Cantor was kept at arms length from the real Sergei Polunin. And if Sergei had reigned in his "bad boy" proclivities as a performance for us, the viewer, so we can identify with the 'from nothing to something' story, or at least the Derek Zoolander staring into a puddle asking "Who am I?" moment that we all experience in our early twenties.
This movie will definitely satisfy your inner Kevin Bacon need to angry dance your pain away knowing that you will never do it as well as Sergei Polunin, at least not in this lifetime.
Dancer is in cinemas from 8th December through Vendetta Films.